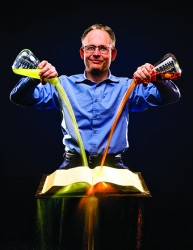 The UK audio science fiction magazine Starship Sofa has published a podcast of "Descartes' Stepchildren," a short story by Robert Scherrer, professor and chair of the Vanderbilt's department of physics and astronomy.
Scherrer's day job is theorizing about the nature of the cosmos, including dark energy, dark matter, big bang nucleosynthesis, and the large-scale structure of the universe. He is also the author of a quantum mechanics textbook.
In his spare time, however, the physicist enjoys turning his hand to writing science fiction short stories, which have been published mostly in Analog Magazine. In 2010, he received the Klopsteg Memorial Award from the American Association of Physics Teachers for his science fiction works.
Starship Sofa only keeps the link to each story for a couple of weeks, but, if the link above has expired, you can find it in the archives. It is post number 322.
Read a story about Scherrer's science fiction, including one of his short stories.