Media Inquiries
Latest Stories
Metropolitan Nashville Public Schools has joined with the Vanderbilt Center for Nashville Studies and Peabody College to create a platform to provide detailed, reliable and recurring information about the commitment of major employers to the public school system. This is the latest installment in a series that tells the story of collaborative involvement between members of the Vanderbilt community and local public schools.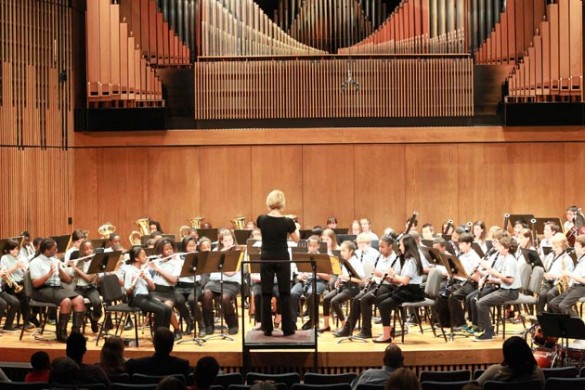 Research shows that learning music helps children tap into multiple skill sets, facilitates the learning of other subjects, and enhances language and social development. Students who receive a music education tend to perform better on standardized tests, stay in school longer and achieve higher graduation rates. But there's more to it than that.
"Music is a core part of the human experience," said Pam Schneller, associate dean of precollege and adult programs at Blair School of Music and senior lecturer in choral music. "The very earliest humans sang and made instruments. Music expresses emotions, ideas and concepts that no words or other forms can express. It's what makes us truly human, and we think everyone should experience it."
With that mission in mind, Blair is partnering with several Metro Nashville Public Schools to support their music education efforts.
Last May, Blair offered its state-of-the-art Ingram Hall as a free performance venue for the Nashville School of the Arts' spring choral concert. "Ingram Hall provided our young singers the chance to sing a formal concert in a beautiful concert hall with superb acoustics—a setting much finer than what is available in our school's facilities," said Walter Bitner, director of choral studies at NSA. "[rquote]This opportunity inspired our singers and the audience, and the choirs' performances rose to a new level."[/rquote]
The success of that venture led to a formal partnership between Blair and NSA that was celebrated with a kickoff event at Blair's Turner Recital Hall in September. The event featured performances by the NSA Madrigal Singers and the Vanderbilt Symphonic Choir as well as remarks by Blair Dean Mark Wait and Dr. Gregory Stewart, executive principal at NSA.
Blair choral faculty consult regularly with Bitner to exchange ideas about repertoire. And students from both institutions have participated in master classes and special performances hosted by both schools.
Roland Schneller, Chancellor's Chair for the Blair School and senior artist teacher of piano, was invited to conduct a master class in piano for students at NSA. In turn, when NSA hosted world-renowned violinist Ani Kavafian, the school invited violinists from Blair's undergraduate and precollege programs to participate alongside its students.
Another collaboration featured Vanderbilt Associate Professor of Piano Karen Ann Krieger performing in a state-of-the-art virtual concert utilizing Yamaha Disklavier technology that was broadcast from the Schermerhorn Symphony Center to NSA in December. Blair piano student Nora Pertz performed her junior recital for a rapt audience of NSA students earlier in the fall as well.
NSA students regularly attend concerts at Blair to fulfill a curricular requirement for concert attendance, Bitner said. "Through all of these activities, which include many departments at both schools, our students are learning more and expanding their musical horizons. We are very grateful for these opportunities," he said.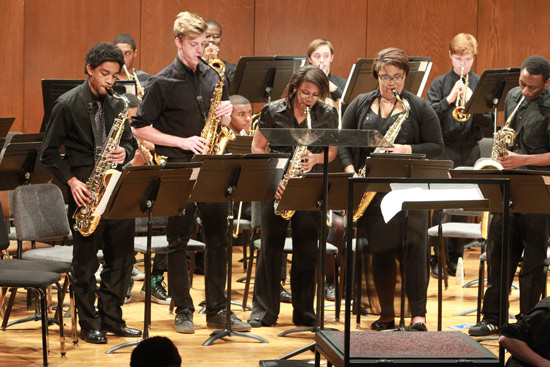 The Blair School is interested in finding even more ways to partner with NSA going forward, Schneller said.
"We want to supplement and enhance the programs already in place at the school and be of service to faculty as they desire – to share our resources with them so that we can help one another grow," said Schneller, who noted that the NSA Choirs plan to return to Ingram Hall for their 2014 spring concert on May 12.
Blair is also supporting the growth of music programs at several other public schools through a series of Music Advocacy Concerts. In the fall of 2012 and again in 2013, Blair convened bands from three MNPS schools to give a joint concert at Turner Recital Hall for their families and friends. This year's concert featured the Nashville School of the Arts Jazz Band, the Wright Middle School Band and the Head Middle Magnet School Band, as well as a performance by the Vanderbilt Wind Ensemble.
"Preparing for a performance is a valuable lesson, and performing for a Music Advocacy Concert is even more purposeful," said Jesenka Filipovic, director of bands at Head Magnet Middle School and a Blair alumna. "Seeing other musicians perform is a learning experience but also a motivational one. Many of our students came back to school energized and even more excited about music-making after seeing the other groups perform.
"They were especially mesmerized by the Vanderbilt Wind Symphony," she said. "The symphony's performance gave them the vision of what is possible with lots of hard work and patience. Many even said that their goal is to continue playing so that they can play as well as musicians in the Wind Symphony. [rquote]Exposing young musicians to great live performances enhances their musical knowledge and appreciation for music and musicians."[/rquote]
To that end, fourth-grade students and their families from schools that feed into MNPS middle schools are invited to attend the Music Advocacy Concerts to get a taste of what live musical performance and being in the band are like.
"We invite fourth graders and their parents to be a part of the audience and see what possibilities lay ahead for them in terms of music education," said Schneller, who noted that the Music Advocacy Concerts are largely organized by Blair collegiate students who are majoring in music education.
"My hope is that Blair will continue this event," Filipovic said. "If they can reach a couple hundred students, then those students will be better individuals. I hope that in the future, this event will grow even bigger and better to motivate future generations to get involved in music-making."
That's a goal the Blair School shares, Schneller said.
"We believe very strongly at Blair that those of us who've had the opportunity to discover music and how much it enhances our lives have a responsibility to pay it forward," she said.
Get FAFSA help at College Goal Tennessee event
Metro Nashville Public Schools encourages college-bound students and their families to attend College Goal Tennessee, a free two-hour event to help families complete the Free Application for Federal Student Aid (FAFSA), the required form for students seeking grants, scholarships and loans.
Financial aid professionals will be on site from 2 to 4 p.m. Jan. 26 at Watkins College of Art, Design and Film, 2298 Rosa L. Parks Blvd., Nashville.
To get the most out of the session, please bring:
A completed 2013 IRS 1040 tax return;
W-2 statements and other 2013 income and benefits information;
Current bank statements;
Untaxed income records for the previous year (Social Security, Temporary Assistance to Needy Families, welfare or veterans benefits records);
A driver's license (if any);
An alien registration card (for non-U.S. citizens).
For more assistance completing the FAFSA or other financial aid resources, visit www.tn.gov/CollegePays.