Reserve free women's basketball tickets for Jan. 12 game
Dec. 18, 2013, 10:24 AM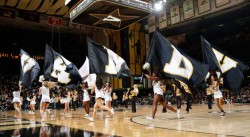 Join Employee Celebration for a pre-game party and the Vanderbilt women's basketball game on Sunday, Jan. 12. Cheer on the Commodores as they take on in-state rival Tennessee at Memorial Gym.
Pre-game festivities will begin at 2:30 p.m. in the Memorial Practice Gym, located inside the roll-up door at the southeast Memorial Gym entrance. You and your family can enjoy light snacks, games for the kids and more. Tipoff for the basketball game is scheduled for 4 p.m.
Visit the Employee Celebration website today to reserve your tickets. Each employee may receive up to four free tickets. (If you have more than four people in your immediate family or a handicap request, register online and then send a follow-up email to employeecelebration@vanderbilt.edu.)
Event details
The pre-game party begins at 2:30 p.m. in the Memorial Practice Gym.

Pick up your tickets at the Memorial Practice Gym beginning at 2:30 p.m. on Jan. 12. You must present your Vanderbilt ID when you pick up your tickets.
Be sure to wear black and gold to get your free tickets. Tickets will NOT be given to anyone wearing orange or wearing clothing or caps with the UT logo or name.
Once you receive your tickets, you will not be allowed to leave and re-enter Memorial Gym.
Parking is available for Employee Celebration attendees in the Medical Center lots at the corner of Natchez Trace and Jess Neely Drive.
Questions?
Contact the Employee Service Center at human.resources@vanderbilt.edu or (615) 343-7000.