Media Inquiries
Latest Stories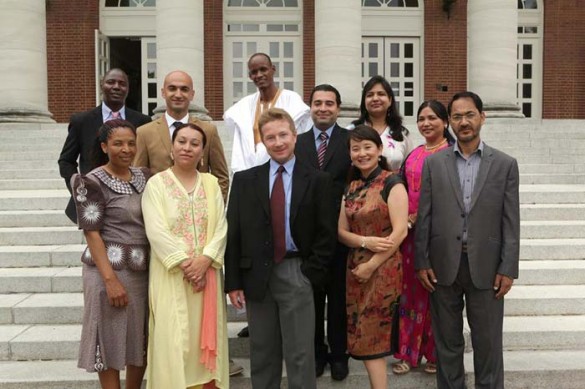 Educators from far-flung lands will share favorite childhood folktales with third- and fourth-graders at Eakin Elementary School in Nashville, Tenn., on Thursday, Dec. 5.
Eleven international guests—who hail from China, Guinea, Kosovo, Lebanon, Mauritania, Myanmar, Pakistan, Russia and Swaziland—are spending a year at Vanderbilt Peabody College of education and human development through the Hubert H. Humphrey Fellowship Program, a Fulbright exchange program that brings midcareer leaders from developing nations to American host universities each year.
Typically, the Humphrey Fellows are principals, school superintendents, government education officials or leaders from such international nonprofit organizations as Save the Children or Compassion International.
The fellows' Dec. 5 visit to Eakin Elementary augments the third- and fourth-graders' "How We Express Ourselves" unit, which investigates fairytales and folklore from around the world.
"The Humphrey Fellows' stories emphasize the similarities of folktales from many cultures around the world," said Betsy Woods, Eakin's International Baccalaureate coordinator. "For example, the fourth grade unit focuses on the reason people migrate. Sharing stories helps them see how the creation of new governments around the world occurs for similar reasons."
During their time at Peabody, the Humphrey Fellows will host programming at Metro Nashville Public Schools, visit with Tennessee students and interact with area education and government leaders as part of a rigorous yearlong cultural exchange.
"Engaging in service opportunities like this provides the fellows the opportunity to experience Nashville's culture of service," said Nancy Dickson, director of the Humphrey Fellowship Program at Peabody. "The fellows will leave here having learned best practices that can be adapted and implemented to improve the educational opportunities for children and youth where there is the greatest need in their home countries."
Program Contact: Nancy Dinunzio Dickson, 615-390-0812
nancy.j.dinunzio@vanderbilt.edu