Media Inquiries
Latest Stories
Metropolitan Nashville Public Schools has joined with the Vanderbilt Center for Nashville Studies and Peabody College to create a platform to provide detailed, reliable and recurring information about the commitment of major employers to the public school system. This is the latest installment in a series that tells the story of collaborative involvement between members of the Vanderbilt community and local public schools.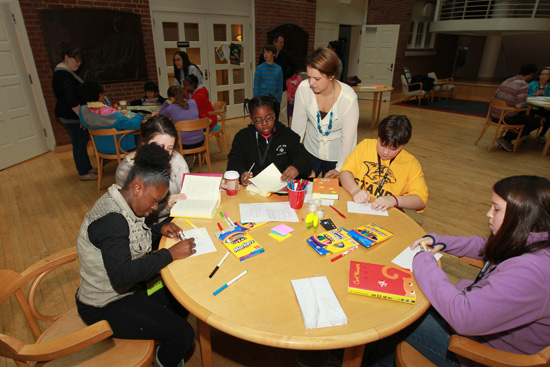 At 9 a.m. on a recent Saturday, the Wyatt Center Atrium was buzzing with the energy of more than a dozen middle school students. While discussing the goings-on of a school dance that occurred just the night before, these fifth, sixth and seventh graders were hard at work in small groups creating advertisements, adding details to a 20-foot-long timeline of events or writing in journals about the mysterious disappearance of the main character of the book they are reading together.
This is what Saturday mornings look like for the 25 students enrolled in Patterson RAPS (Read and Play Saturdays), a free program for Metro Nashville Public School middle school students who live in the communities surrounding Vanderbilt. Funded by a gift from best-selling author and Vanderbilt alumnus James Patterson, MA '70, the Patterson RAPS program is focused on a single thing: instilling a love of reading in kids.
"We're really working hard to engage them in ways that aren't multiple choice tests," said Melanie Hundley, program director and assistant professor of the practice of teaching and learning.  In addition to Hundley, RAPS has two additional faculty who work with the program—Emily Pendergrass, a lecturer in teaching and learning, and Ann Neely, associate professor of the practice of teaching and learning—as well as two program coordinators, Linda Dunnavant and Pallu Reddy.
"Putting books into the hands of students who don't have a lot of access to books at home and getting kids to enjoy reading—that's the biggest part of this program," Pendergrass said. "[rquote]We're not testing them. We're not researching them. We just want them to love reading, to love learning."[/rquote]
The format of the program is simple. Each student receives a copy of a book to add to his or her personal library. Each Saturday morning, the students begin reading the book aloud as a group to build engagement with the novel. Then, once they are hooked, the students are turned loose to read silently, in pairs or with a Vanderbilt student volunteer. The remainder of the morning is devoted to engagement activities. From art projects to independent writing to hands-on science experiments, an array of activities engage these young readers with the books and include lessons on character, plot and setting.
The first book read was I Funny by James Patterson. The group recently began SCAT by Carl Hiassen. Kyra Harmon, a fifth grader at West End Middle School, gives both a thumbs up.
When asked to explain her decision to devote Saturday mornings to reading, Harmon's response is a quick and cheerful, "because I like to read." Her current reading list also includes Dork Diaries, Dork Diaries 2, The Hunger Games and its sequel Catching Fire.  The last two, she proudly points out, "are very big chapter books."
Cora Villager, also a fifth grader at West End Middle School, echoes the sentiment.  "I love to read. I like adventure books and mysteries," she said.
Pendergrass points to the students' enthusiasm as evidence of the program's success.  "One of our students recently said this is kind of like school, only so much better," she said. "We do so many interesting activities and learning tasks that the kids want to be here. There are no tests, they are very engaged, and they like being able to work with us around reading without the stress of school."
Optional Schools Application process ends Dec. 3
Head Magnet Middle School is one of many Metro Schools participating in the Optional Schools Application process. Nearly 25 percent of Metro School students attend choice schools each year. The application deadline for the 2014-15 academic year is Dec. 3. Before then, be sure to explore your options, visit schools and apply. Detailed information is available at www.mnps.org.
Story by Whitney Weeks
whitney.weeks@vanderbilt.edu