Media Inquiries
Latest Stories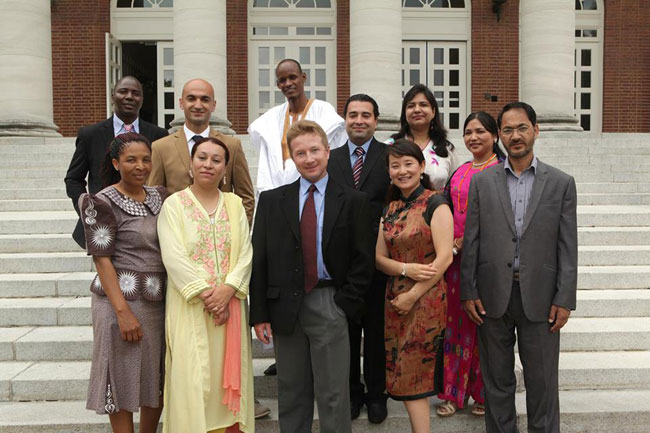 Eleven international educators from around the world—from Myanmar to Swaziland—are spending a year in Nashville to learn about educational policy and administration and collaborate with area educators and businesses.
Each year the Hubert H. Humphrey Fellowship Program brings mid-level educators from around the world—usually from developing nations or emerging democracies—to Peabody College of education and human development at Vanderbilt for an intensive, 10-month cultural exchange.
Typically, the participants are principals, school superintendents, government education officials or mid-career leaders from such international nonprofit organizations as Save the Children or Compassion International.
"Over the past five years, we've had participants from every continent except Antarctica," said Nancy Dickson, who directs the Humphrey Fellowship Program at Peabody. As an example of its wide reach, this year's class of fellows arrived from China, Guinea, Kosovo, Mauritania, Myanmar, Pakistan, Lebanon, Russia and Swaziland.
Programming is divided into three "Seminar Institutes" that are approximately six weeks long each, comprised of seminars with guest speakers and site visits to educational organizations. In addition, fellows will participate in uniquely American activities, and spend time with "Friendship Families" who will introduce them to local culture and customs.
The Humphrey Fellows arrived in September and kicked off the year with their first institute, Introduction to the American Educational System. They are now investigating the influence that the economic, health, community and government spheres exert on education in their second institute Spheres of Influence.

This session includes an address by Nashville Area Chamber of Commerce Chief Policy Officer
Marc Hill, and a discussion about the economics of education with Peabody Professor of International Educational Policy Stephen Heyneman, among other activities.
Fellows also will partner with the Metro Nashville Public Schools Academies of Nashville Career Fair, hear from Jay Steele, MNPS chief academic officer on high school leadership, and witness one of the top Academies of Nashville in action—Hillwood High School.
The partnership between MNPS and the Humphrey Fellows is a good fit, according to Dickson.
"MNPS has been aggressively revamping the secondary education model by bringing together meaningful community and business partners into the classroom while adding relevance and rigor to student's curriculum," she said. "It is clear that student engagement and high quality educational opportunities are at the forefront of this city's agenda and the academies are propelling this mission forward. The fellows are learning with and from MNPS and stakeholders in the school improvement process."
The reciprocal nature of the Humphrey Fellowship Program is what makes it so valuable, Dickson said.
"We are learning from each other. And the fellows will leave here having learned best practices in school reform that can be adapted and implemented to improve the educational opportunities for children and youth in their home countries where there is the greatest need," she said.