Occupational Health Clinic brings flu shot to you
Oct. 9, 2013, 3:58 PM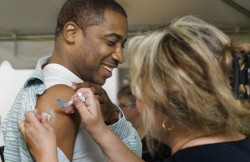 Missed getting your flu shot under the Flulapalooza tent? Never fear! Get your annual flu vaccination at one of the Occupational Health Clinic's upcoming events on or off campus.
Loews Vanderbilt Hotel
Oct. 16, noon–2 p.m.
Seventh Floor, Conference Room 4
2525 West End Ave.
Oct. 17, 3:30–4:30 p.m.
Room 531-B
Williamson County
Oct. 18, 8 a.m.–4 p.m.
(Check the OHC Comes to You schedule for specific times and locations.)
Baker Building
Oct. 21, 12:30–2 p.m.
Room 901-D
No appointment is necessary. A Vanderbilt ID is required.
View the complete OHC Comes to You schedule.