New faculty: Melinda Buntin is helping shape health care policy
by
Nancy Humphrey
Oct. 7, 2013, 8:14 AM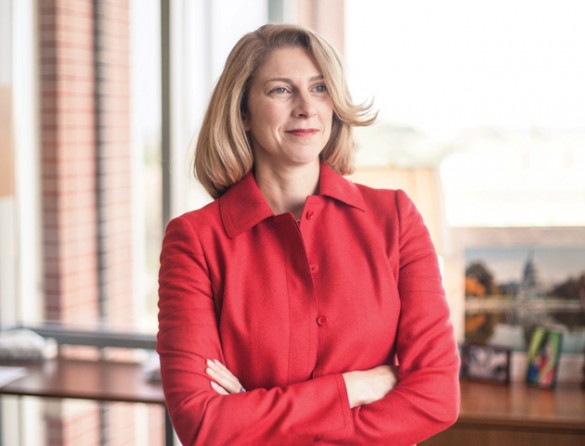 As the nation's health care system undergoes unprecedented challenges, Melinda Buntin's appointment as chair of Vanderbilt's new Department of Health Policy couldn't come at a better time.
Buntin has been sitting at the heart of federal health care reform as the former deputy assistant director for health at the Congressional Budget Office. There she was responsible for managing and directing studies of health care and health care financing issues and evaluating policies that affect the federal budget, including Medicare, Medicaid, subsidies for the purchase of private insurance, public health and private health insurance markets. At Vanderbilt, she will help the university further develop its role in shaping health policy.
The new department represents a reorganization and growth of the Department of Preventive Medicine, chaired for 31 years by William Schaffner, who will continue his teaching and research duties at Vanderbilt. It will be a multidisciplinary base for health policy research and design. The current department's strengths in population-based epidemiology and prevention will be augmented with disciplines critically important to the health policy debate, including economics and policy analysis. The mission of the new department is to provide rigorous evidence to inform health policy decisions.
Buntin said her role at the CBO prepared her well to lead the new department.
"My group at CBO confronted the entire range of health issues of interest to Congress, so during my time there I was able to work on a very wide range of challenging—and real—health policy questions. That perspective will be very valuable to me," she said.
At Vanderbilt, she plans to build on the existing strengths of affiliated faculty in areas such as health insurance coverage, preventive medicine and systems of care for the elderly, and will focus on building expertise in additional areas and bringing together multidisciplinary teams to do the best work in the field.
Buntin, who has a bachelor's degree from Princeton's Woodrow Wilson School and a Ph.D. in health policy with a concentration in economics from Harvard, said that Vanderbilt's atmosphere of enthusiasm, collegiality and commitment are ideal for her.
"Passion for my work, productive relationships with my colleagues and research that can point the way to real improvements in health and health care are the key ingredients in career satisfaction for me," she said. "At Vanderbilt it was clear that I would not only step into an environment where those things were already present, but I'd have the privilege of being able to 'bake' those ingredients into the new Department of Health Policy."
View the complete list of new university faculty for 2013-14.
View the complete list of new medical faculty for 2013.