Media Inquiries
Latest Stories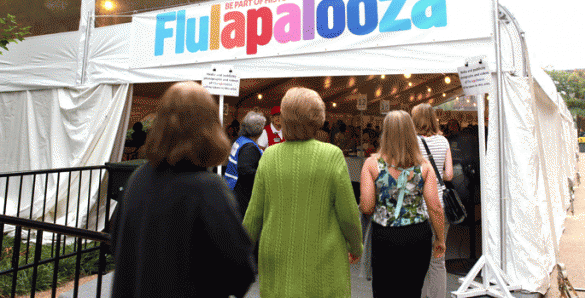 Vanderbilt University and Medical Center faculty, staff, students and volunteers will once again have the opportunity to be part of a mass flu vaccination event that two years ago more than doubled the current world record for the total number of vaccinations given during an eight-hour period.
Flulapalooza 3 will be held Wednesday, Sept. 25, from 6 a.m. to 6 p.m. in a large tent erected between Light Hall and the Veteran's Administration Hospital. The free shots are available for all university and medical center faculty, staff, students and volunteers. Family members will not be included in this event.
All VUMC faculty and staff are strongly encouraged to get an influenza vaccination.
Watch a quick OverVU about Flulapalooza.
"Two years ago, we planned Flulapalooza as a one-time event, but the response was so overwhelming that we hope to continue the event each year," said Melanie Swift, director of Vanderbilt's Occupational Health Clinic. "This is the way people want to get their flu shots each year—easy, efficient and enjoyable—so Flulapalooza, once again, is back by popular demand."
The Centers for Disease Control and Prevention recommends that everyone at least 6 months old be vaccinated to protect themselves and their close contacts from the flu. Flu vaccine will be available for Vanderbilt patients starting in September.
Also, the Occupational Health Clinic will offer flu shots at the OHC, located on the sixth floor of Vanderbilt's Medical Arts Building, beginning in early September.
For maximum efficiency during the Flulapalooza event, please wear short sleeves and present your Vanderbilt ID badge. Supervisors should stagger staff participation in patient care areas so that not too many staff members are away at once.
Swift said that faculty and staff who receive flu vaccine outside the OHC program can now electronically self-report their vaccination on the OHC website. If you are vaccinated in your provider's office, at the VA or at a pharmacy, report your vaccine so that you are counted in your department's vaccination rate.
VUMC policy now requires annual influenza vaccination or exemption. Exemptions may be for religious or personal/philosophical beliefs or for medical contraindications. Those who wish to be exempted from receiving the flu vaccine may complete an exemption form, available on the OHC website beginning in September.
For information on how to protect yourself and your patients from influenza, check the Department of Infection Control and Prevention's website.
For more information about participating in Flulaplalooza, email occupational.health.clinic@vancerbilt.edu.