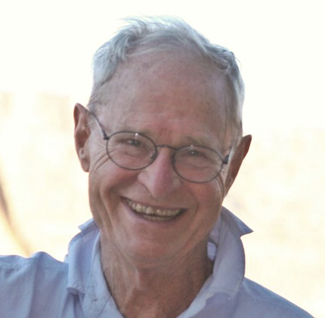 Ernest Q. Campbell, professor emeritus of sociology, former chair of the Department of Sociology and Anthropology, and dean emeritus of the Graduate School at Vanderbilt University, died July 28 at his home in Nashville. He was 86.
Campbell was instrumental in revitalizing his department and the Graduate School through the recruitment of a notable and diverse group of scholars and establishing graduate training programs that furthered the university's mission. He was nationally known for his sociology research in race relations, desegregation and education.
"Ernest Campbell will be remembered for his academic legacy and contributions, but so much about him was about bigger and broader values that he passed on to the positions and places where he worked," said current sociology chair Katharine Donato. "[lquote]He had a strong commitment to academic freedom and academic integrity, to doing the right thing at the right time, as well as to understanding what racial divisions were and how to break them down."[/lquote]
Campbell grew up on a farm in rural Oglethorpe County, Ga., in a family that was passionate about education. He finished high school early, starting classes at Young Harris College on his 15th birthday. Transferring to Furman University, he majored in psychology with a minor in sociology and graduated in 1945.
Following graduation, Campbell and a friend boarded the Seaboard train in nearby Greenville, S.C., to visit graduate schools along the East Coast. He settled on the sociology program at the University of Pennsylvania, where he received his master's degree.
Campbell began his teaching career at Berea College in Kentucky, then took a position at Mississippi Southern where he met Berdelle Taylor, whom he married in 1949. After teaching at the College of Wooster in Ohio, Campbell earned his Ph.D. at Vanderbilt in 1956, then taught at Florida State before pursuing post-doctoral studies at Harvard and accepting a faculty position with the University of North Carolina at Chapel Hill.
Campbell returned to Vanderbilt in 1963 to chair of the Department of Sociology and Anthropology. "He was a tour de force in sociology," said Donato. "He did some exceptional hiring while he was here and brought in major scholars. He set about putting Vanderbilt on the map in sociology for the next 50 years."
With his characteristic humility, Campbell once said his policy was to ensure that "every sociologist I brought here was a better sociologist than I was."
During his tenure as Faculty Senate chair in 1972, Campbell advocated a larger faculty role in major university decisions and increased emphasis on graduate education in order for the university to become a truly elite research university. His remarks, reported in the Vanderbilt Gazette, were titled "The Faculty Role in Locating the Future of the University." He also encouraged faculty to become more strongly engaged in research and scholarly publications.
Then-Provost Nicholas Hobbs asked Campbell to serve as Graduate School dean, a post he assumed in 1973. Campbell set about increasing the Graduate School's resources and improving diversity among the students admitted. An important mission for him was attracting qualified African American students who were graduates of historically black universities.
"[rquote]He helped strengthen graduate education at Vanderbilt, and that's an important role for any great university—to be able to contribute to the ranks of the national professoriate through its doctoral training programs,"[/rquote] said Dan Cornfield, a member of the sociology department since 1980. After stepping down as dean and returning to teaching in 1983, Campbell retired from Vanderbilt in 1993.
Sociology department colleagues who interviewed him extensively in the months before his death noted that his tenure as a scholar and university administrator came during a significant historical period.
"Ernest Campbell was part of the important generation of U.S. sociologists based in the South whose contributions to the development of modern sociology, and the study of group relations in particular, were directly related to the unfolding of the Civil Rights movement, especially in the South," Cornfield said. "His career evolved at a time when his generation of sociologists was increasingly professionalizing the discipline and also contributing to the formation of critical social interventions to create a more integrated society."
During Campbell's Ph.D. studies at Vanderbilt, the school superintendent in Oak Ridge, Tenn., learned of his scholarly interest in education and race and asked Campbell to study the outcomes of desegregation in that city. This subject became Campbell's dissertation topic.
In his post-doctoral year at Harvard, he examined community conflict about public health issues, especially as related to race. Campbell spent time exploring issues of desegregation in Little Rock, Ark., particularly the role of ministers in influencing community attitudes. That work led to a book called Christians in Racial Crisis, published in 1959. It was one of his many scholarly publications.
While at UNC, the Campbells welcomed the Rev. Dr. Martin Luther King Jr. to their home when the civil rights leader visited Chapel Hill. Campbell studied the educational aspirations of white and black students in North Carolina in the early 1960s and received a call from the U.S. Office of Education asking him to serve as co-director of a project resulting from a mandate in the U.S. Civil Rights Act of 1964 to study the effects of discrimination on race, sex and religion.
The scholars focused on education achievement and race, and the resulting large-scale study of nearly 800,000 students documented huge differences in test scores and achievement by race. The research additionally documented that the Southern region lagged significantly behind the rest of the nation in terms of education, especially in regard to race. The resulting study was dubbed the "Coleman Report" after its principal author, James S. Coleman, and was published in 1966.
"We were able to demonstrate that black students who were in class with whites were doing significantly better than other black students," Campbell said. "It wasn't our job to say what this means. Other people grabbed it and that became the argument for busing."
In a 1975 Tennessean article, Campbell said that busing as a policy had misfired. "The goals sought by large-scale busing are highly desirable, but the negative consequences of busing are larger than we thought," he said at the time.
Campbell advocated efforts to increase contact among diverse groups in schools, institutions and neighborhoods. "In my view," he told the newspaper, "it is very much in the national interest to preserve racial contact and prevent racial isolation and separation in public institutions."
In later years, Campbell expanded his academic attention to the study of attitudes and predictors of alcohol use among students, especially in the transitional years between high school and college.
One of the pivotal experiences of his personal and professional life came in 1968 when the Rockefeller Foundation invited Campbell to travel to what was then the University of East Africa in Nairobi, Kenya, as a visiting chair in sociology. He was impressed by the university's accomplishments, despite limited resources, and by the seriousness and professionalism of his colleagues and students there. He wrote an article in Vanderbilt Alumnus magazine in which he recounted his experiences and called for greater involvement in Africa by the university.
Campbell was involved in numerous professional organizations. He was president of the Southern Sociological Society at the time of King's assassination, rearranging the group's agenda in response to King's death. He also served as president of the Association of Graduate School Deans and served on the Council of the American Sociological Association. His on-campus leadership extended to membership on the University Research Council.
In retirement, Campbell remained active in social, political and environmental causes, and as an avid tennis player. The Campbells were among the first preservationist pioneers to restore a 19th-century home in historic Germantown, where, as master gardeners, they also transformed a barren downtown lot into a garden that remains an oasis for the community.
Campbell is survived by his wife, Berdelle, and their four children, John, Paul, Leigh and Scott, and seven grandchildren. In lieu of flowers, the family requests that memorial contributions be made to the Cumberland River Compact or the Nashville Jazz Workshop.