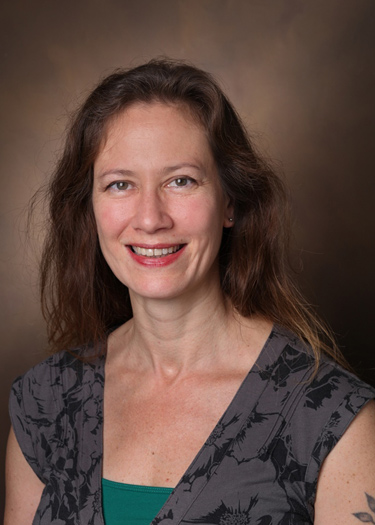 Elizabeth Meadows has been named head of the Curb Scholars Program and the Creative Campus initiative at Vanderbilt University's Curb Center for Art, Enterprise and Public Policy. She takes over from the founding director, Elizabeth Long Lingo.
"I want to help make the Curb Center a presence across every department at Vanderbilt, and help facilitate creative leadership skills that Curb scholars can put to work in their lives when they leave here," Meadows said.
The Curb Scholars program engages Vanderbilt students in creative practice workshops and leadership salons led by top faculty, artists and executives, coupled with internships and projects that build their creative portfolios. Curb Scholars are recipients of the only scholarship in the nation explicitly dedicated to cultivating creativity and leadership. They come from every undergraduate school and major in subjects as diverse as neuroscience and economics; literature, music, art, theater and film; engineering and education; and mathematics and computer science. Curb scholars count the opening of recording and video studios in the Curb Center among their recent accomplishments.
The Creative Campus sponsors events by students, staff and faculty from diverse parts of the university. It fosters multimedia collaborations, interdisciplinary conjunctions, campus happenings and arts events with a social vision. It supports an annual Creative Practice Boot Camp, Vanderbilt's Story Booth, the Innovation Grants program, Design for America, Nashville's Maker Faire and many one-time performances and collaborative programs.
Jay Clayton, director of the Curb Center, praised Elizabeth Meadows as a dedicated teacher and inspiring mentor to her students. "When we looked around for a worthy successor to Elizabeth Lingo, who did so much to turn the Curb Scholars program into a national model for innovative education, we immediately recognized Elizabeth Meadows as the person who could build on the program's achievements and help develop new, surprising strengths," Clayton said.
Meadows began her education career by putting her passion for literature to work teaching at-risk students in New York City's neediest public schools. After three years as a New York City teaching fellow, she returned to graduate school and earned her Ph.D. in English at Vanderbilt. For the past two years, she was an ACLS-Mellon Post-Doctoral Fellow and visiting assistant professor at Mount Holyoke College.
"My early training taught me to approach teaching problems with creativity," Meadows said. "That was with high-risk and high-need students. This new challenge at the Curb Center will be to engage with highly motivated and enthusiastic students, which is also a teaching scenario to be approached with creativity.
"I hope to have artists working with chemistry majors, to spur real creativity and innovation on the Vanderbilt campus."