Media Inquiries
Latest Stories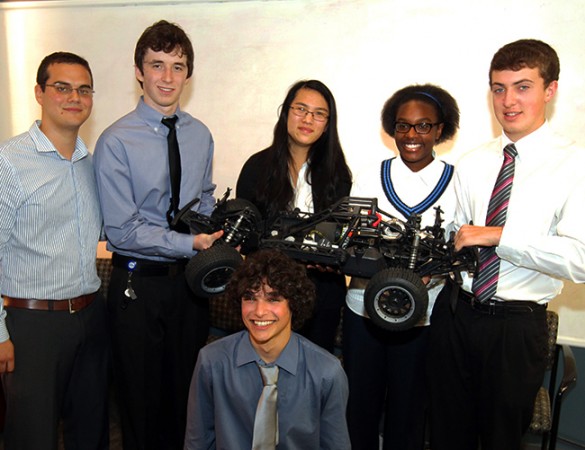 If you are a frustrated amateur inventor, you might want to thank seven Nashville high school students.
They spent their summer working on introductory manuals for a new suite of software developed at Vanderbilt's Institute for Software Integrated Systems (ISIS) to democratize the vehicle design process. The software, which ISIS created for the Defense Advanced Research Project Agency, is open source: It is available to members of the public for free.
The students – Michael Eden, Jonas Aberle, Lucas Cauthen, Sydney Bailes, Asha Elsberry and Jonathan Steward from Martin Luther King (MLK) High School and Zack Bapty from Hume-Fogg – participated in a summer internship at ISIS run by Program Coordinator Brandon Knight. At the beginning, they thought seriously about spending their time on a variety of specific projects, such as designing a radio-controlled car, a robot arm or a hovercraft. But they decided they could make a more important contribution by testing, debugging and editing the introductory materials that ISIS programmers were developing to ensure that they are accessible to students and amateurs.
Last Friday, July 12, the interns put on a presentation explaining what they had achieved to their parents and teachers. To do so, they created a fictional character, an average guy who has an idea for a new kind of airplane but doesn't have the time, money or expertise to develop it on his own. The interns explained that the ISIS software is just what our budding inventor needs. Not only does it have computer design tools and a wide-ranging library of predesigned components he can use for free, but it also contains programs called simulations that can analyze his designs using basic physical principles and give him an idea of how the design will work.
Of course, there is a considerable learning curve. So the students described how they had vetted the "CyberPhysical Systems Beginner's Kit" to give novice users a leg up and worked on a second manual, called the "CyberPhysical Systems Advanced Kit," for creating individual components that do not exist in the library. ISIS will be publishing these guides on its CyberPhysical Systems website in the near future.
"Einstein said, 'If you can't explain something to a six-year old, you don't really understand it yourself," said Eden. "[rquote]We say, 'If you can't explain something to an average Joe, then you don't really understand it."[/rquote]
In addition, the students explained the work they had done on a system called C*STEM (Community-centered Challenge-based Collaborative Learning Environment) developed by another group of ISIS engineers. The interns used the C*STEM software to model traffic flow through intersections and then used a simulation model and Google Maps to show that a better sequencing of traffic lights on streets in a neighborhood can significantly reduce congestion and decrease the commute times. The model that they developed will be used in curricular material that will be tested this fall at Martin Luther King high school.
After their presentation, the students answered a number of questions including, "What is one thing that you learned this summer?" Aberle responded that one lesson he learned was the power of brainstorming with a group and how important it is to explore different possibilities for a design. Elsberry said that she learned that are a lot of ways to reach a goal and there is not necessarily one path that is the best. Cauthen commented that he learned the value of open source software and has concluded that "crowd sourcing" – getting large numbers of people to work in parallel on very complex problems – is a powerful new approach.
Jim Woodbury, a science teacher at MLK, said that he was very impressed by the students' accomplishments and felt it was a good fit for the high school's engineering program. A number of the interns will be participating in a year-long engineering design project at the high school and said they would like to use the ISIS software for this purpose.
The parents in attendance also appeared to be pleased. "It's an absolutely wonderful project. I just wish there were more like it," said Viki Cauthen. "As a result, Lucas has become even more dedicated to business and science and figuring out how to make things easier for the public. But it's made it harder to tell Lucas to go out and play," she added wistfully.