Zeppos discusses favorite books at local event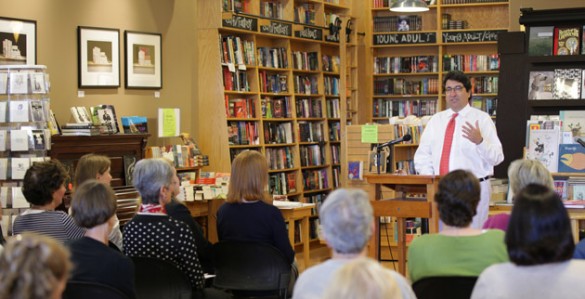 When it comes to reading, Chancellor Nicholas S. Zeppos can't get enough of it, and his tastes tend to run toward history, politics and any story that provides a new or opposing perspective on well-established lore.
Zeppos was the latest guest in Parnassus Books' "Let's Talk Books" series June 4.
"My fondest memories growing up are certainly all of the things kids did to get in trouble, but particularly on cold nights in Wisconsin, sitting and reading books," Zeppos said. "I always think, 'How did I become a college professor?' Well, I read encyclopedias, so that probably suggests I am a little bit on the compulsive side for learning. But I've always loved to read all different kinds of books.
"I read endlessly," he continued. [lquote]"I think when one leaves this world, one should be surrounded by those one really loves—family and friends—but also a stack of books one didn't read.[/lquote] Because if you've read every book you think (you should have), then you never really challenged yourself."
Recent favorites from Zeppos' reading list include:
Wolf Hall by Hilary Mantel
Long an admirer of Sir Thomas More—an important counselor to Henry VIII until he opposed the king's break from the Catholic church—Zeppos "inhaled" this telling of events from the perspective of Thomas Cromwell, More's chief adversary in Henry's court.
"I liked getting this counternarrative," Zeppos said. "Thomas Cromwell was not well-educated, he was not well-bred—he was kind of the vulgar counterpart to the very erudite Thomas More. And through history, More has gotten the better treatment by scholars and certainly in the public's perception.
"I just thought it was really interesting for her to capture this commoner who was the antagonist to Thomas More and to make him human—not to sugarcoat him in any way, but to say, 'Cromwell wasn't as bad as you thought, and More wasn't as good as you thought.' I just loved it."
Zeppos praised Wolf Hall and Mantel's follow-up, Bring Up the Bodies, both of which were awarded the Booker Prize and are currently being adapted for the stage by the Royal Shakespeare Company. Zeppos said he hopes to bring the author to Vanderbilt when the final book in her Cromwell trilogy, The Mirror and the Light, is completed.
A Daughter's Love: Thomas More and His Dearest Meg by John Guy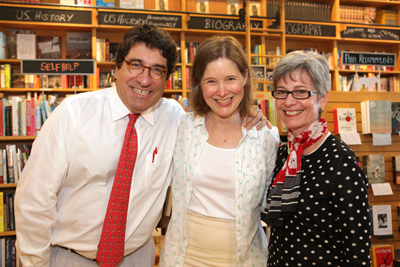 Before he read Mantel's works, Zeppos' estimation of More was only burnished by this biography about the relationship between the statesman-scholar and his beloved daughter.
"It's this really poignant, loving account of the relationship between Thomas More and his daughter, Margaret," Zeppos said. "She was the apple of his eye, and she had his brilliance. She couldn't be anything (in 16th-century England) because she was a woman, but he devoted all of his energy to educating her.
"She is the one who retrieves his head from the pike (following More's execution in 1535) and saves his papers. Her love for her father as a daughter and her respect for him as a thinker is probably what allowed so many of his works to survive," he said. "I loved this book, and it's beautifully written."
Salonica, City of Ghosts: Christians, Muslims and Jews 1430-1950 by Mark Mazower
This history of what is today Thessalonica, in northern Greece, depicts a thriving crossroads where Orthodox Christians, Jews and Muslims lived in mostly harmony for more than 500 years until the mid-20th century.
"It's a fascinating account of the negotiation of life, faith, commerce and history," Zeppos said. "I think when a culture makes accommodations for co-existence through centuries, it's something we can learn from, because we tend to see the world in these Manichean ways. So oppression and tolerance and the dialectic between them, to me, is just fascinating.
"If you like reading great history, Mazower is off the charts," he said. "I am working on attracting him to give a talk at Vanderbilt."
The Hare With Amber Eyes by Edmund de Waal
This memoir tells the story of the Ephrussis, a prominent and wealthy European banking family whose vast property was seized by the Nazis in 1938. The only thing saved was a collection of Japanese netsuke—264 tiny wood and ivory carvings that were secreted away by a loyal family maid. De Waal, a noted British ceramicist and Ephrussi descendant, traces five generations of family history through these objects.
"This and the Mazower book are what I call 'polyglot stories,'" Zeppos said. "What I like about these books is they tell stories about people moving across parts of the world and trying to fit in, assimilate, and then butting up against issues of culture, religion and class.
"It is beautifully written and one of the most beautiful family journeys you would ever want to be on," Zeppos said. "I can't recommend it enough."
Alexander Hamilton by Ron Chernow
Hamilton, the first U.S. secretary of the treasury, may be best known for losing a duel with Aaron Burr in 1804, but this distinction doesn't do justice to his brilliance or legacy, Zeppos said.
"I think Hamilton is one of the most underappreciated figures in American history," he said. "Hamilton, more than any of the founding fathers, had a bold, energetic, ambitious vision for America that was very much in conflict at points with Jeffersonian and certainly Jacksonian democracy.
"He also was a multiracial, illegitimate immigrant to America. I'm amazed that a person with his background—he was born in the British West Indies—could come to America with so many deficits and become such an important figure in crafting our nation," Zeppos said. "Chernow does an incredible job of positioning Hamilton among his contemporaries."