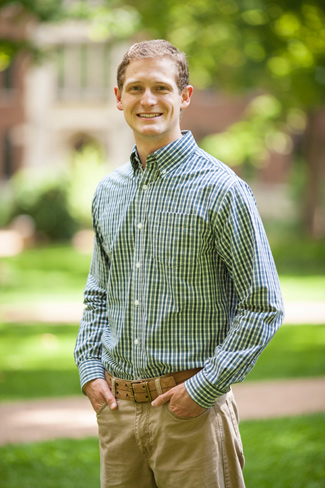 Jesse Neugebauer, who graduates from Vanderbilt May 10 with Peabody College's top undergraduate honor, the Founder's Medal, knows what it's like to overcome tough circumstances. His experience will serve him well as he prepares to work with students facing challenges of their own.
When Neugebauer was 10, he was diagnosed with osteogenic sarcoma, an aggressive form of bone cancer. He and his family sought treatment in Denver, about three hours from their Gering, Neb., home. That treatment entailed high doses of chemotherapy to first kill the cancer, which was located in his left femur, then removal of about 10 inches of damaged bone in his leg, which was replaced with a cadaver bone and stainless steel rod.
Neugebauer was declared cancer-free in April 2002 but spent nearly three years on crutches as he waited for the bone graft to take and his leg to heal. The formerly active youngster couldn't even walk without his crutches let alone run or play sports during that time, and doctors advised that he not play competitive sports again.
"That was difficult at times—not being able to participate in things my friends were doing. Growing up in a rural community, athletics really tend to define your involvement," said Neugebauer, who found alternatives in speech and debate, show choir and band. "I still feel like I had as much of a childhood as anyone else."
When Neugebauer entered seventh grade, he began experiencing persistent coldlike symptoms that progressively worsened. A chest X-ray revealed a tumor in his mediastinum, the part of the body that contains the heart, esophagus, trachea, lymph nodes and nerves and blood vessels of the central chest. The tumor was putting pressure on his lungs, causing pneumonia, and doctors feared it was a recurrence of his previous cancer.
Instead, Neugebauer was diagnosed with non-Hodgkin's lymphoblastic lymphoma, a whole new cancer—for which, he said, he was thankful.
"[lquote]There's something morally uplifting about having beaten the first one and it not coming back," he explained.[/lquote] Doctors removed as much of the new tumor as possible, but it had paralyzed one of Neugebauer's vocal chords, leaving him with a distinct rasp.
He began a complex two-year course of chemotherapy. At different points in his treatment, Neugebauer experienced temporary hearing loss and blindness. A particular experimental treatment proved effective in treating the lymphoma, but caused a sudden and progressive loss of coordination.
"That was probably the scariest moment in all of my treatment. I was losing all of these abilities that I'd taken for granted, including my ability to speak," he said. "One of the last things I remember was being wheeled onto the life flight jet with my mom, and for all I knew, I was dying. Even though I was awake and aware, I couldn't tell my mom that I loved her because I wasn't able to form the words. It was terrifying."
When Neugebauer woke up later in a Denver ER, he was diagnosed with RPLS, or reversible posterior leukoencephalopathy syndrome—a rare but reversible condition caused by the buildup of fluid around his brain due to the chemotherapy drugs. "It had no lasting effects, which is a blessing," he said.
With his second cancer in remission, Neugebauer and his family received still more devastating news. Genetic testing showed that he had an abnormality on chromosome 7 that the doctors said meant a likelihood of developing leukemia. The family huddled close, as they had through difficult times before.
"We're a very religious family. My dad is a minister, and my parents have always strived to raise my siblings and me in our faith," Neugebauer said. "[rquote]Something that I credit as a strength God gave me during that time was that I acknowledged to my family that whatever happened, God wouldn't allow me to be affected beyond my ability to fulfill my purpose in life and service to him."[/rquote]
Follow-up testing a few months later showed no signs of the gene abnormality. The primary oncologist was stunned. "When we asked him how this was possible, he said the power of prayer was the only explanation he could think of, which for my family meant a lot," said Neugebauer, who was declared free of cancer in December 2005.
Thomas Smith, the Denver physician who shared that good news and guided the Neugebauers through Jesse's treatments, will be on hand Commencement day. His daughter Natalie, a College of Arts and Science senior, is also graduating from Vanderbilt. Neugebauer and his doctor have stayed in touch, with the two meeting up for coffee from time to time during the latter's visits to Nashville over the last four years.
Neugebauer, a Peabody Scholar and Carell Family Scholarship recipient, said his early experiences inspired him to pursue an education degree. "Having been served by so many people when I was younger, I want to dedicate my life to giving back. I've had an interest in special education since the time I went through RPLS and gradually lost control of abilities that I'd previously taken for granted. I realized that they are abilities a lot of students go through life never having," he said.
"Jesse has been a memorable student since his first semester on campus, when his gentle spirit and impeccable manners drew the attention of classmates and professors," said Catherine McTamaney, a senior lecturer in education at Peabody College. "He originally entered as a Secondary Education student but realized before the end of his freshman year that he wanted to work with younger children in higher-risk communities. None of our licensure programs are easy, but the dual program in Early Childhood and Special Education is particularly rigorous. For Jesse to have completed both programs, at such a high level of accomplishment and with such demonstrated mastery in his teaching practice, is notable. That he was able to do so while holding leadership positions in multiple organizations and while maintaining high levels of service is especially impressive.
"[lquote]Most of all, Jesse represents what I think Peabody hopes to send out into the world: He is an earnest and thoughtful teacher-leader, who asks the right questions about kids and takes the right action to serve them.[/lquote] His potential as a teacher and as a world-changer is unparalleled," she said.
Neugebauer will join the staff of Metro Nashville Public School's Robert Churchwell Museum Magnet Elementary School in the fall, teaching third-grade math. He looks forward to the classroom challenges that lay ahead, as well as helping his students develop a love for learning.
But first, he and his family will celebrate Commencement and the challenges they've overcome. Following the ceremony, they plan to meet up with the Smith family. "We're hoping to touch base at the Strawberries and Champagne reception," Neugebauer said. "It will be a nice time for us to share in that moment together."