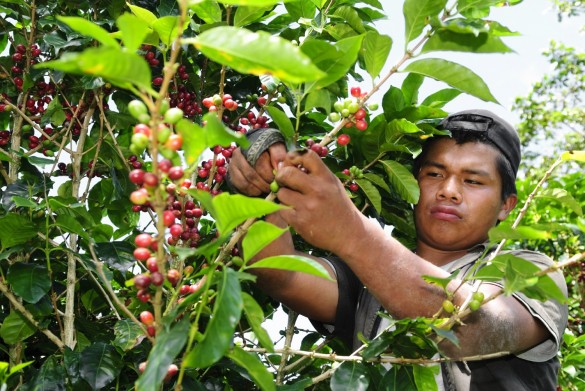 Economic prospects improved for small mountain farmers in Guatemala when consumers developed a taste for coffee brewed with beans grown at high altitude, according to a new study from the Vanderbilt Institute for Coffee Studies.
A passion for sipping the "Strictly Hard Bean" brew grown above 4,500 feet has led to improvements in the modest living conditions of these indigenous Maya growers, researchers Edward F. Fischer and Bart Victor of Vanderbilt found.
"Coffee is a little like fine wine," explained Fischer, director of the Center for Latin American Studies and Professor of Anthropology. "When the bean gets stressed, the flavor is richer." Fischer's research partner in the study, "High-End Coffee and Smallholding Growers in Guatemala," was Bart Victor, Cal Turner Center for Leadership and Moral Responsibility Professor.
The study, co-funded by Anacafe', the Guatemalan national coffee producers association, is to be published in a forthcoming issue of Latin America Research Review. The paper sought to examine how the desire for a better future steered small producers toward the newly emerging market for high altitude beans.
Struggling Maya farmers benefit from changing coffee tastes
While producing high-end coffee is labor-intensive, it has represented a means to a better life for native Mayas, who have suffered discrimination and economic disadvantages. They were driven off their lands to live hardscrabble lives growing corn and beans on the steep sides of former volcanoes while the lower altitude lands they formerly inhabited were developed into rubber plantations and other crops by the descendants of European settlers, according to Victor.
"The poetry of this is that now the valuable coffee land is at higher altitudes," Fischer said.
There's little chance that more opportunist investors will rush to buy up the higher elevation lands now to grow trendy beans, Victor explained. That's because the Arabica crop, considered more flavorful, is more difficult to coax out of the land than the heartier Robusta plant grown at lower elevations. But it represents a better way of life for the small farmers than working on a large plantation, where many of them formerly labored in difficult conditions for little pay, he said.
Will new growers survive economic storms?

The next question for study is how these newer coffee growers will weather economic tests, such as the spreading coffee rust disease that threatens the crops, and how such threats will impact the cost and demand for high-end coffee, he said.
Coffee rust already has caused production of high elevation coffee beans to decrease by 15 percent. It is predicted to wipe out as much as 40 percent of crops next year, with potentially devastating impact for the newer mountaintop farmers, Victor said.
Pointing to his own morning cup of joe, he said, "The question is whether our cups will be empty or just more expensive." Will growers replant and wait three or five years for mature, productive plants? Or will they return to the basics, growing corn and beans? The next research project, with initial funding from a Vanderbilt Discovery Grant, will follow and study that process.
Growers not getting rich but getting out of poverty
"These decisions have an incredibly large impact," Fischer said. "As researchers, we're interested in what's going to happen and how it's going to impact everyone from small families to your morning cup of coffee."
The current research included 82 in-depth interviews with newer smallholding coffee growers in Guatemala, from a database maintained by Anacafé'. The research team found that the farmers are not getting rich, but they are getting out of poverty.
"Coffee has produced an advantage for lots of these farmers," Fischer said. "It would be a shame for all of that to go away."
Coffee collaboration built over many cups of joe
Many conversations, likely over a cup of coffee, preceded the current collaboration between Victor and Fischer. It turns out that coffee makes for an interesting research topic from many perspectives that concern both a business professor and an anthropologist. Just for starters, it is one of the world's most traded commodities.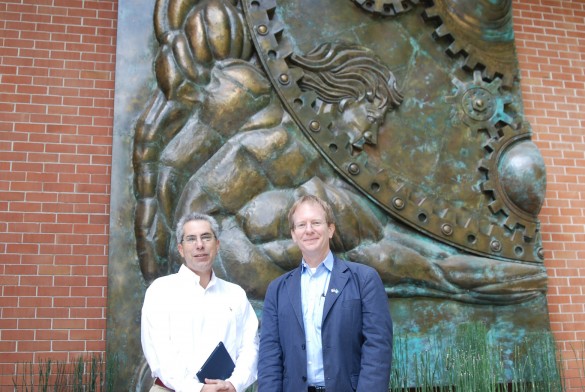 The Vanderbilt Institute for Coffee Studies was established in 1999 in the Department of Psychiatry at Vanderbilt University Medical Center. The institute moved to the Vanderbilt Center for Latin American Studies in 2007 to expand its mission beyond the biomedical aspects of coffee to include historical, literary, sociological and economic importance.
Among the more recent ICS findings is that coffee lowers your risk of morbidity for all causes. Turns out what's good for you is good for small farmers in Guatemala.
Edward F. Fischer and Bart Victor's study titled "High-End Coffee and Smallholding Growers in Guatemala" can be read here.