Media Inquiries
Latest Stories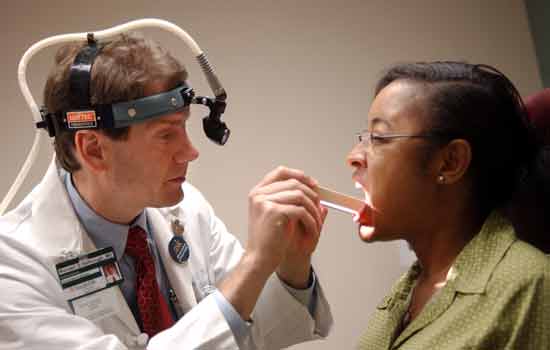 A sore throat can be a symptom of allergies or a cold virus but if the sore throat persists it may be an early symptom of head and neck cancer.
Vanderbilt will hold a free head and neck cancer screening day, Friday, May 3, 9 a.m. – 3 p.m., in the Vanderbilt Bill Wilkerson Center, Odess Head and Neck Surgery Clinic, 7209 Medical Center East, South Tower. The Vanderbilt Bill Wilkerson Center for Otolaryngology and Communication Sciences is located at 1215 21st Ave. South and parking is available in the East Garage.
The annual screening and education event, held in partnership with Vanderbilt-Ingram Cancer Center (VICC), is designed to provide free exams and educational material to individuals who want more information about this form of cancer. No appointments are necessary.
Every year, nearly 80,000 Americans are diagnosed with head and neck cancer, according to the National Cancer Institute. These cancers may occur in the nasal cavity, sinuses, throat, lips, mouth, thyroid, salivary glands, or larynx (voice box). Lumps or bumps on the neck, spots or lesions on the tongue or in the mouth, hoarseness and difficulty swallowing may be signs of this often-devastating type of cancer.
Early detection can improve survival and it is important for patients to know more about their risk factors for this disease.
"Alcohol and tobacco use have long been associated with the development of head and neck cancer, especially among older patients," said Sarah Rohde,
assistant professor of Otolaryngology. "However, we're starting to see younger patients with no history of tobacco use who are infected with the human papillomavirus (HPV)."
HPV is a common sexually transmitted virus. Most individuals exposed to HPV shed the virus soon after exposure, but in some cases the virus lingers and it has been linked to the development of head and neck as well as cervical cancers.
The head and neck cancer screening exams take only a few minutes and are painless. During the exam, physicians inspect the mouth and throat and palpate the neck to search for abnormalities in the thyroid, lymph nodes, or salivary glands.
In addition to the exams, patients can talk with medical professionals about head and neck cancer prevention, therapy, research and rehabilitation.
For more information, contact Michelle Pham (615) 936-4896