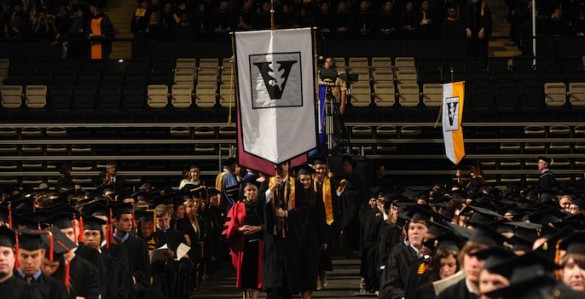 The Vanderbilt Board of Trust has approved the awarding of emeriti honors to 14 distinguished, longtime College of Arts and Science faculty. The professors will be honored at Commencement ceremonies on May 10.
"Cumulatively, these 14 professors have dedicated more than 450 years to the College of Arts and Science," said Carolyn Dever, dean. "Each of them has made this campus better for their contributions. Each has worked to secure a legacy of academic leadership by investing in new generations of faculty. They leave their departments and students in good hands.
"It has been an honor to work with these professors, and we thank them for all they have accomplished and for what they have given to Vanderbilt and its students," she said.
The Arts and Science professors receiving emeriti status are:
Jeremy Atack, professor of economics, emeritus
Atack came to the College of Arts and Science in 1993 from the University of Illinois, where he had already established a reputation as one of this generation's most important scholars of U.S. economic history. His research focused primarily on the transformation of the American economy to an economic powerhouse. As a professor, Atack combined outstanding scholarship with exceptional mentorship of students and junior faculty. His undergraduate course in U.S. economic history was always popular with students and was a cornerstone of the economics and history major. He has published three books and scores of articles; he also served on editorial boards for various scholarly journals. Atack is a past chair of the Department of Economics and former director of graduate studies.
Vereen Bell, professor of English, emeritus
Bell joined the College of Arts and Science in 1961. Over the next 52 years, he would be professor, author, scholar, mentor, administrator and advocate for social justice. Popular with students, Bell taught a range of courses on modern and contemporary literature and poetry, as well as literary theory. As a key member of the English department, he was among the leadership that reshaped the department into a top-ranked, diverse and engaged entity. Among the honors Bell won are the Alumni Education Award, Madison Sarratt Prize (for excellence in undergraduate teaching), Outstanding Graduate Teaching Award, Chancellor's Cup and Vanderbilt's Affirmative Action and Diversity Initiative Award. The author of three books and various articles, he was also a Guggenheim Foundation fellow.
M. Fräncille Bergquist, professor of Spanish, emerita
Bergquist has been a member of the Arts and Science faculty since 1977. In 1983, she joined the dean's office as associate dean of academic affairs. In that role, Bergquist was responsible for pre-major advising and monitoring and advising students on their academic progress. She also directed summer academic orientation, trained faculty to be pre-major advisors, and chaired the administrative committee and the committee on individual programs. Active in many areas on campus, she was instrumental in the creation of McTyeire International House, Vanderbilt's international living learning community. She continued to teach in the Department of Spanish and Portuguese, where her course on translation and interpretation was a student favorite. Among the honors she received are the Chancellor's Cup and the Alumni Education Award.
Charles A. Brau, professor of physics, emeritus
Brau had a distinguished career as a research scientist before joining the Department of Physics in 1988. At the Los Alamos Scientific Laboratory, he started a program to develop a high-power free-electron laser that is still in place at Los Alamos today. As director of Vanderbilt's William P. Keck Free-Electron Laser Center, Brau oversaw the construction and commission of the university's FEL. It was one of the most powerful in the world and was instrumental in several remarkable discoveries in laser surgery. In the classroom, Brau taught introductory physics to undergraduates and advanced quantum mechanics, classical mechanics and electrodynamics to graduate students. He is the author of three books and more than 90 articles. He holds six patents related to free-electron lasers.
Clint E. Carter, professor of biological sciences, emeritus
Carter joined the College of Arts and Science in 1973 and became director of graduate studies for general biology in 1976. In the course of his nearly 40 years at Vanderbilt, he also served as department chair and director of undergraduate studies, and on the faculty senate. Carter's research into biochemical and immunological interactions between protozoans and multicellular parasites and human hosts resulted in more than 90 scientific publications and a book on parasitology that is currently in its second edition. He served on advisory committees for the National Institutes of Health and U.S Army, as well as on the editorial board of the Journal of Parasitology. As professor, mentor and adviser, Carter influenced and assisted his students, both graduate and undergraduate, in careers in the scientific field.
Kassian A. Kovalcheck, professor of communication studies, emeritus
Kovalcheck joined what was then the Department of Drama and Speech in 1969. Over the next 44 years, he was instrumental in shaping what today is the Communication Studies department. His Vanderbilt career has been distinguished by contributions to program-building, undergraduate education and university governance. In the classroom, Kovalcheck taught almost every course in the rhetorical studies curriculum over the decades. He served as the department's director of undergraduate studies since 2005. He also served on Vanderbilt's faculty senate and the faculty council of the College of Arts and Sciences, marking a remarkable nine years as parliamentarian and twenty-eight times as a faculty marshal at Commencement. In 2011, his accomplishments were recognized with the Thomas Jefferson Award for Distinguished Service.
Konstantin V. Kustanovich, professor of Russian, emeritus
Kustanovich started his career as a mechanical engineer in the Soviet Union. Coming to the United States in the early 1970s, he pursued his love of Russian literature. A year after earning his Ph.D. in 1986, he joined the College of Arts and Science. Kustanovich is a specialist in 20th-century Russian literature and culture, whether in Russia or the émigré diaspora. He authored two books, including a collection of essays, and numerous articles on Russian literature and culture. In addition to teaching Russian language, culture and literature, he was a contributor to the European Studies, Jewish Studies and Film Studies programs. Kustanovich also served as director of undergraduate studies in Russian and acting chair of the Department of Germanic and Slavic Languages.
Andrea Maneschi, professor of economics, emeritus
Since joining Vanderbilt in 1969, Maneschi taught hundreds of students about the interplay of technology, resources and opportunities for exchange and economic growth. His popular courses included international trade, globalization, the history of economic thought and recently, environmental economics. A scholar for whom teaching and research went hand-in-hand, he produced numerous works on the economics of international trade, including important scholarship on the history and evolution of economists' ideas about why nations trade what they do. His book, Comparative Advantage in International Trade: A Historical Perspective, made a major contribution to the field. Maneschi served as the economics department's director of graduate studies and director of the Graduate Program in Economic Development; he was also a director of the Vanderbilt-in-Germany program in Regensburg.
John A. McCarthy, professor of German and comparative literature, emeritus
McCarthy had already earned an international reputation as a teacher/scholar before coming to Vanderbilt in 1991 as professor of German and comparative literature. In addition to teaching, he served as director of graduate studies and later as director of undergraduate studies in the Department of Germanic and Slavic Languages. In 2005, he served as associate director of the Center for European and German Studies, then becoming the first director of the Max Kade Center for European and German Studies in 2006. McCarthy published 13 books, authored more than 90 articles and book chapters, and served on leading national and international editorial boards. Active as a reviewer and lecturer on both sides of the Atlantic, McCarthy also held appointments as professor of European studies and professor of religious studies.
Robert L. Mode, professor of history of art, emeritus
Mode taught thousands of students in a career spanning over four and a half decades. As a scholar of Italian Renaissance art, he produced foundational articles that helped define the field. He was published in the most esteemed journals in art history, including The Burlington Magazine and The Art Bulletin. In recent years, he expanded his research to eighteenth-century Britain, and is continuing his scholarship regarding the artist, William Hogarth. Mode has served as department chair, director of graduate studies and director of undergraduate studies, and in a variety of roles for the College of Arts and Science and Vanderbilt. He was also active in public art issues with the Vanderbilt Institute for Public Policy Studies and the Curb Center for Art, Enterprise and Public Policy.
Daniel M. Patte, professor of religious studies, New Testament and Christianity, emeritus
Patte joined the Department of Religious Studies in 1971 and went on to become one of this generation's most productive scholars in New Testament studies. He is an internationally ac-claimed academic who helped create the new field of semiotics applied to the study of the New Testament. In recent years, he has explored multicultural interpretations of the New Testament. Patte has produced two major encyclopedias, 13 monographs, 13 edited volumes or special issues of journals, and nearly 200 articles, book chapters and encyclopedia entries in peer-reviewed publications. He also mentored and taught students who have gone on to be professors, preachers, deans, writers, and leaders of church denominations. He served as chair of religious studies for nearly two decades, and in 2005, took over as director of undergraduate studies.
James Lee Ray, professor of political science, emeritus
Ray already had a worldwide reputation in international relations when he joined the Department of Political Science in 1996. An intellectual leader in the field, Ray has advanced new theories in political science and his work has been widely published in the discipline's most distinguished journals. His influential Democracy and International Conflict is in its second edition and his textbook, Global Politics, is in its 10th edition. In the classroom, he was known for his sense of humor and ability to impart knowledge to undergraduate and graduate students alike. He was honored with the College of Arts and Science's Ernest A. Jones Faculty Adviser Award in 2006. A former chair of the department, Ray served as director of undergraduate studies for 13 years.
Eric Schechter, professor of mathematics, emeritus
Schechter came to Vanderbilt from Duke University in 1980. His area of expertise includes mathematical analysis, set theory and logic. Calling himself a pure mathematician at heart, Schechter started in differential equations before turning to existence theorems and the more abstract questions of mathematics. He is the sole author of two well-reviewed books and the author or coauthor of more than 20 research articles. One of the early users of the Internet, Schechter was the departmental webmaster for years and served as a valuable resource for his colleagues in matters regarding new technology. He also served as student adviser to the undergraduate mathematics club and as adviser for students participating in the prestigious William Lowell Putnam Mathematical Competition.
Ronnie J. Steinberg, professor of sociology, emerita
Renowned for scholarship in the area of women and work, Steinberg was recruited to Vanderbilt in 1997 as professor and director of the Women's Studies program. During her seven years as director, she was instrumental in the development of an undergraduate major and graduate certificate for the program. Her classes in sociology and women's studies were student favorites. Steinberg's research was geared toward policy-making in support of equal pay for equal work, and more recently, to the experiences of workers and residents in eldercare settings. She edited a long-standing book series, Women in the Political Economy, which resulted in 57 books and significantly expanded scholarship on women and gender. She is the author of three books and more than 75 articles.
Commencement begins 9 a.m. May 10 on Alumni Lawn. A detailed schedule on Vanderbilt Commencement and Senior Day activities is available at the Vanderbilt Commencement website.