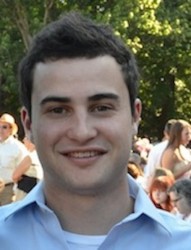 Samuel Friedman, a senior from Scituate, Mass., majoring in molecular and cellular biology, recently won a Victoria Finnerty Undergraduate Travel Award from the Genetics Society of America. The award allowed Friedman to present his research at the 54th Annual Drosophila Research Conference in Washington, D.C.
Friedman is an undergraduate researcher working with Kendal Broadie, Stevenson Professor of Neurobiology in the Department of Biological Sciences. Their research showed the discovery of defects in communication between cells during nervous system development in Fragile X syndrome, the most common inherited cause of intellectual disability. The research could lead to better understanding of the developmental deficiencies present in autism and other developmental disorders.
"A fundamental part of science is the presentation of one's work to fellow scientists. This travel award enhances the research experience of undergraduates," said Helen Salz, chair of the Finnerty award review committee and professor at Case Western Reserve University.
Leading investigators around the world use the fruit fly Drosophila melanogaster in conducting genetic research. The annual Genetics Society's Drosophila Research Conference provides the opportunity for them to share their findings, many of which have broad application for the study of human genetic traits and diseases.