Vanderbilt University has awarded graduating senior Emma Steigerwald the 2013 Michael B. Keegan Traveling Fellowship.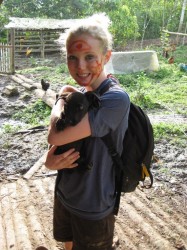 The goal of the fellowship is to develop future leaders through world travel and experiential learning. Graduating seniors awarded the fellowship have the opportunity to pursue an idea or an issue, about which they are impassioned, in the context of daily life in communities around the world.
Steigerwald, who is from Atlanta, Ga., will use the fellowship to explore ecological issues and successful wildlife conservation efforts. She plans to visit biodiversity hotspots across six continents, intern with nongovernmental organizations and grassroots movements, learn people's opinion of the conservation projects in their community and document her journey through blogged reflections, watercolor and photography.
"I feel like a knight setting out on a quest. To be able to witness the richness of life across the globe and learn how many top-tier conservation projects run is an idyllic opportunity that I could never have dreamed of. I can't thank the selection committee enough for making the impossible possible for me," Steigerwald said.
"The perception that wildlife and human interests are antagonistic, particularly in the developing world, is both mistaken and pervasive. [lquote]I hope my journey illuminates how our relationship with the natural world can and should be symbiotic."[/lquote]
Steigerwald, a recipient of the Lanier Leadership Scholarship and a Cornelius Vanderbilt Scholar and Truman Scholar, graduated in December 2012 from the College of Arts and Science with a major in molecular and cellular biology. She is spending this spring semester working on a scarlet macaw reintroduction project in Chiapas, Mexico. Internships and volunteer work in wildlife rehabilitation and ecology-evolution research made her curious about how successful conservation projects are created – from the initial assessment of an environmental issue to investigating solutions, ecosystemic and species management, sustainable development work and political action.
Vanderbilt students interested in the Keegan fellowship must submit an application, a proposal for a plan of study/travel, a resume and letters of recommendation. A committee of former Keegan fellows, faculty and staff selects the winner.
For more information about the Michael B. Keegan Traveling Fellowship, contact Associate Dean Sandy Stahl at 615-322-6400.