The One Vanderbilt transformation continues as Nicholas S. Zeppos marks five years as chancellor
Jackhammers and heavy-duty equipment can be faintly but persistently heard in Chancellor Nicholas S. Zeppos' office as he sits still long enough to have a microphone attached to his lapel. The noise comes from workers building the fast-rising College Halls at the former Kissam Quadrangle site, but the chancellor's mind is already leaping steps ahead of that project.
"Take these towers down!" he declares, evoking former president Ronald Reagan calling for the demise of the Berlin Wall in the 1980s.
Zeppos is mentally years down the line at the demolition of Carmichael Towers, the nearly 50-year-old home to some 1,200 Vanderbilt students. He's ready for the towers to be replaced with a living-learning community like that established for first-year students at The Martha Rivers Ingram Commons and the one on the way at the Kissam site.
"We really have to focus on creating a living-learning environment that educates the whole student," Zeppos said. "So I think we'll see sister of Kissam, son of Kissam, all of those things going forward."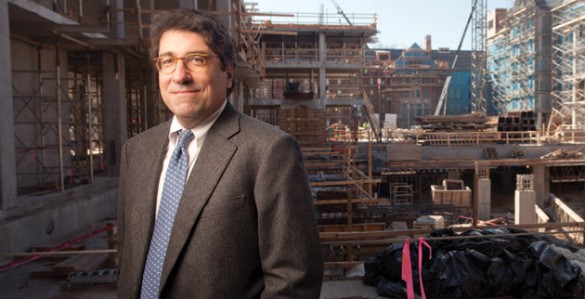 Zeppos sat for an interview recently with MyVU to mark his fifth anniversary as chancellor. He agreed to look backward but invariably took every conversational point into the future.
"You're never putting the finishing touches on," he said, his voice rising along with his enthusiasm. "I don't think there's going to be a time when you say, 'Well, close it up. Education is done. We've made all the discoveries we need. We've served as much as we can, and all the human maladies of the heart and the soul and the mind have been cured.'
"I just don't think that's going to happen. So our work continues every day."
Zeppos, a native of Milwaukee, was named Vanderbilt's eighth chancellor on March 1, 2008, after serving as interim chancellor beginning Aug. 1, 2007. Prior to that, he spent 2002-2008 as Vanderbilt's provost, overseeing undergraduate, graduate and professional education programs as well as development, alumni relations and research efforts in liberal arts and sciences, engineering, music, education, business, law and divinity. He first came to Vanderbilt in 1987 as an assistant professor in the law school.
Dark Days
"Timing for chancellors is everything," Zeppos said. "I think the financial crisis just kind of being dropped on us (almost immediately upon his becoming chancellor) was something that I wish I could say I had foreseen. … That really set a tone, and I think it is going to be seen as the biggest financial crisis since the Great Depression."
Zeppos took some solace and advice from past chancellors during the dark economic early times of his chancellorship, reading financial reports by Chancellor James Kirkland from the Depression and also Chancellor Alexander Heard, who dealt with 20 percent interest rates during his tenure.
"Obviously the political system in Washington, D.C., with a lot of instability has raised significant challenges for the university," Zeppos said. "The virtue you have on this campus is that you're not the first (chancellor) and you're not the last. You can kind of look back."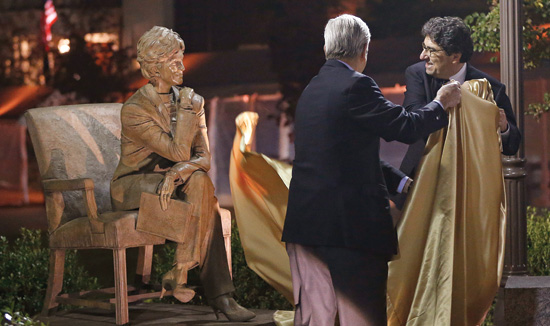 Also, the chancellor stresses, he took full advantage of the financial experts on the Board of Trust and in the Office of Investments.
Vanderbilt got through the crisis notably less scathed than many of its peers and even managed to begin its much-praised enhanced financial aid policy for all undergraduates during the same timespan. Maintaining the policy is a prime goal for the future.
The administration accomplished this financial goal without skimping on the quality of its products, Zeppos said.
"We have a faculty that is one of the most distinguished teaching and research faculties in the world," he said. "We've continued to provide the best health care in the world to everybody and open the doors of our hospitals and clinics to everybody with needs."
Reinventing Health Care
Health care is still in the beginning stages of a major shift, one in which Vanderbilt will have to take a lead, Zeppos believes.
"I think we have to really reinvent health care," he said. "I think this is a very, very, very important issue for this country. It is about 20 percent of the gross domestic product, and really effective, efficient care solutions have to come out of universities like Vanderbilt.
"We're doing that already through personalized medicine and the use of genomics,"
he said.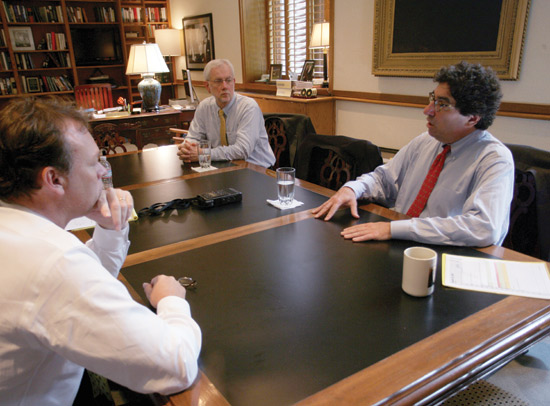 Of paramount importance is the process of spreading those breakthroughs throughout the region, a process that has already begun through agreements with regional hospitals and health care systems.
"We're in Williamson County … then you see more (facilities) going north, west, east, south," Zeppos said.
These agreements will spur economic development in Tennessee because executives with corporations who are considering moving to the area are concerned with the quality of health care that will be available. When they are told Vanderbilt is partnered with a local hospital, they are more likely to choose that area, Zeppos said.
"So I think on the economic development and the quality of care sides, you're going to see Vanderbilt playing a significant statewide, regional and more national role," Zeppos said. "We feel like you can get Vanderbilt-level care and get it more efficiently, and that's going to change the face of Tennessee and, I think, the nation."
Connecting with Students
Zeppos has continued a tradition of retaining and recruiting a truly outstanding faculty at Vanderbilt. The most recent addition to make news is Lorrie Moore, a noted fiction writer who will join the creative writing faculty in fall 2013 as the Gertrude Conaway Vanderbilt Professor of English.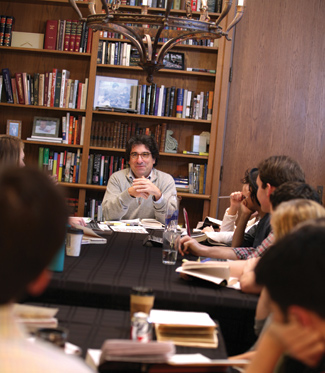 "(Moore) is the latest example of the university's strong commitment to investing in exceptional faculty who provide transformative learning opportunities for our students," Zeppos said in January.
The chancellor himself continues to regularly teach a class on the Federalist Papers in his office, bringing together a dozen or more undergraduates to contemplate essays written by some of the founding fathers to promote the ratification of the Constitution.
"I hear from students about everything. I teach classes and I try to get out and meet with students," Zeppos said. "I joke that sometimes I feel like a mayor, and the bread-and-butter issues are: Can they afford to come here? Do they think they're prepared to go out into the world and be a leader and work in any culture or society? Do they feel like they're enjoying their experience at Vanderbilt? Are they developing emotionally, psychologically, spiritually, intellectually? Are they having fun? Are they safe? Are they treated fairly and equally?
"These are the things that students really care about."
One Vanderbilt
Zeppos believes that many of the issues that Vanderbilt and other great universities address each day are timeless, which is why giving to the university stayed strong through the years of financial difficulty and why staff, faculty and students continue to pull together around the One Vanderbilt theme Zeppos has championed since his days as provost. One Vanderbilt reinforces the concept that no part of the university is an island unto itself and makes clear that congenial work across disciplines is expected and rewarded.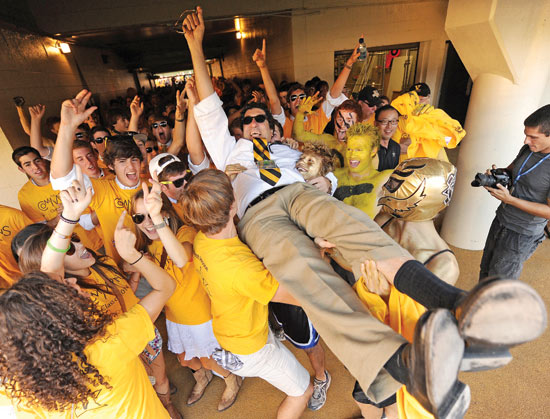 "I think we're further along on becoming One Vanderbilt than we ever could have imagined," he said.
"Engineering is partnering across the university; we have our Medicine, Health and Society program; and everyone came together through a flood and a financial crisis," Zeppos said.
"I think One Vanderbilt as our strength has really shone for where we are heading."
For more photos, pick up the March issue of MyVU, on stands now.