Media Inquiries
Latest Stories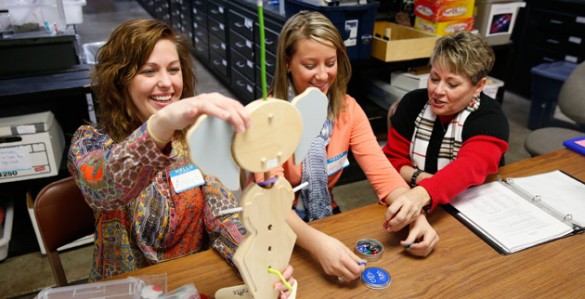 Middle school students in Robertson and Dickson counties will get hands-on science instruction thanks to a Vanderbilt University outreach initiative.
Science teachers for grades 6-8 at White House Heritage Elementary School and Coopertown Middle School in Robertson County were on the Vanderbilt campus Jan. 23 to pick up kits containing science lessons and to learn how to use them with their students. Teachers from Charlotte Middle School, Dickson County Middle School and William James Middle School in Dickson County will be on campus Jan. 25. The materials and instruction are being provided by VSVS Rural, a new collaboration between the service organization Vanderbilt Student Volunteers for Science, directed by educational coordinator Patricia Tellinghuisen, and the Vanderbilt Institute of Nanoscale Science and Engineering, directed by Sandra Rosenthal, the Jack and Pamela Egan professor of chemistry at Vanderbilt.
Each kit serves up to 30 students and includes a PowerPoint lesson, hands-on science experiments and worksheets that supplement the Tennessee standardized science curriculum. Sixth-graders will learn firsthand about electrical circuits, chemical energy conversion and convection chimneys; seventh-graders will learn about igneous rocks, inclined planes and the properties of sound waves; and eighth-graders will learn about chemical reactions, electromagnetism and the elements of compounds and mixtures, among other lessons. The students will do multiple lessons as the kits are circulated to participating schools within the counties then returned to Vanderbilt at the end of the academic year for refurbishing by VSVS students.
About 430 Vanderbilt undergraduate, graduate and medical students currently participate in VSVS by regularly visiting fifth- through eighth-grade classrooms in the Nashville area and patients at the Monroe Carell Jr. Children's Hospital at Vanderbilt to teach science lessons. This is the first time VSVS efforts have expanded beyond Davidson County.
"Some science topics are hard to understand when you're reading about them in a textbook, such as how an electrical circuit works," said Sarah Ross-Satterwhite, program coordinator for VINSE. "But when you're able to build an electrical circuit firsthand, it helps tremendously in reinforcing the lesson. [rquote]Our goal is to get science out of the textbook and give Tennessee teachers the tools to help their students develop a genuine interest and stronger skills in science and math."[/rquote]
"Science really comes alive when you can participate in a hands-on way," Rosenthal added. "Through this outreach effort, we hope to spark the interest of the future generation of scientists and engineers on which Tennessee and the nation will so critically depend."
VSVS also has produced a series of instructional videos on YouTube so that teachers can review the science lessons before sharing them with their students.
VSVS Rural is funded by TN-SCORE, a statewide program supported by the National Science Foundation and designed to boost science, technology, engineering and math education across Tennessee.