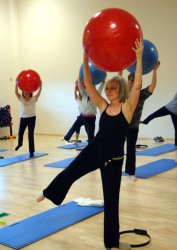 The Vanderbilt Dayani Center is now offering a group fitness class punch card for nonmembers to purchase.
The punch card will give you access to all of Dayani's group fitness classes, including Zumba, Cycling, Bootcamp, Sculpt, Pilates, Yoga and more.
The punch card is $70 for eight classes. Click on the link below to check out our NEW class schedule.
For more information, contact Katie Pomplun, or stop by the Dayani Center to sign up.
Contact: Katie Pomplun
katie.a.pomplun@vandebilt.edu