Media Inquiries
Latest Stories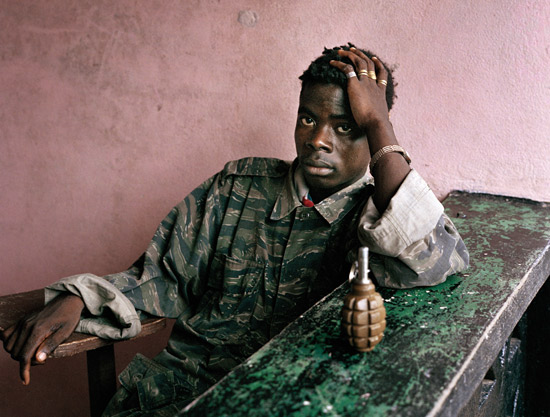 Long Story Bit by Bit: Liberia Retold, Photography by Tim Hetherington opens Friday, Oct. 12, at the Vanderbilt Fine Arts Gallery and will be on view through Dec. 6. An opening reception is scheduled from 5 to 7 p.m. Oct. 12 at the gallery and is part of The Ingram Commons' Fall for the Arts celebration.
The exhibition entwines documentary photography, oral testimony and personal writing to explore the dynamics of power, international complicity and the search for justice in recent Liberian history. Liberia, a country in West Africa, was founded by black Americans, many of whom were former slaves. Two of Liberia's former presidents have faced grisly ends: William Tolbert was disemboweled during a coup d'état, and Samuel Doe was filmed being tortured to death. More recently, former president Charles Taylor was sentenced to 50 years in prison for war crimes after becoming the first person to be tried and convicted by the International Criminal Court in The Hague. However, the terrible years of war and corruption have given way to a remarkable present, with 2011 Nobel Laureate Ellen Johnson-Sirleaf taking the country's helm as Africa's first female president.
Long Story Bit by Bit brings to life an extraordinary range of characters—from warlords to presidents, environmental activists to traditional hunters, political hustlers to democratic visionaries—all captured by the award-winning photographer and filmmaker Tim Hetherington over the course of eight years of living and working in West Africa.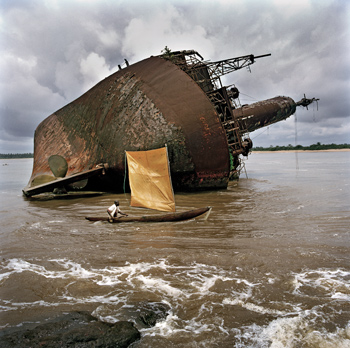 Known for his long-term documentary work, Hetherington was the recipient of a Colombia University duPont Award, a UK NESTA National Endowment Fellowship and four World Press Photo prizes, including the 2007 World Press Photo to the Year. His film Restrepo, which he co-produced and co-directed with Sebastian Junger, was nominated for an Academy Award in 2011 and won the Grand Jury Prize at the Sundance Film Festival in 2010. Hetherington was killed while covering the siege of Misrata, Libya, in April 2011.
At 5 p.m. Thursday, Oct. 25, the Fine Arts Gallery will host a screening of the film Iron Ladies of Liberia (2007) in conjunction with the exhibition. Having won a hotly contested election with the overwhelming support of women across Liberia, Johnson-Sirleaf faced the daunting task of lifting her country from debt and devastation. She turned to a remarkable team of women, appointing them to positions such as police chief, finance minister, minister of justice, commerce minister and minister of gender. Iron Ladies of Liberia follows these leaders behind the scenes during their critical first year in office as they tackle indolent bureaucracy, black markets and the omnipresent threat of violent riots. Highlighting the challenges that African countries currently face, this film provides an uplifting example of women who have become the backbone of change.
A discussion led by Caree Banton, a Ph.D. candidate in the Department of History, will follow the film. Her research focuses on migration from the West Indies (particularly Barbados) to Africa (particularly Liberia) and the implications of this for experiences of freedom, citizenship and black nation building.
Long Story Bit by Bit: Liberia Retold, Photography by Tim Hetherington is organized by Umbrage Editions and curated by Nan Richardson. The exhibition is sponsored by The Martha Rivers Ingram Commons; the Office of the Provost; the deans of the College of Arts and Science, Blair School of Music, School of Engineering and Peabody College; and theVanderbilt University Fine Arts Gallery. It is part of the campuswide initiative "Human Identities: Global, Local, Personal."
Iron Ladies of Liberia is being co-sponsored by the Fine Arts Gallery and the Women's and Gender Studies program at Vanderbilt.
The Fine Arts Gallery is located in Cohen Memorial Hall, 1220 21st Ave. S., on the western edge of the Peabody College campus. All events are free and open to the public. Gallery hours are Monday, Tuesday, Wednesday and Friday, noon–4 p.m.; Thursday, noon–8 p.m.; and Saturday and Sunday, 1–5 p.m.
Please note that the gallery will be closed Nov. 17–25 for the Thanksgiving holiday.
For more information, visit the gallery's website or call (615) 322-0605.
Contact: Joseph Mella, (615) 343-1704
joseph.mella@vanderbilt.edu