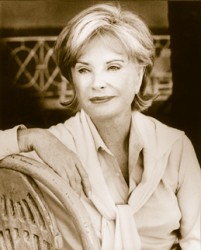 Alyne Queener Armistead Massey, philanthropist, community leader and longtime member of the Vanderbilt University Board of Trust, died Sept. 11 at her home in Nashville.
Elected to the Vanderbilt Board in 1977, she was named trustee emerita in 2003. She made a significant impact on the university through her leadership and philanthropy. She served on the Vanderbilt Heart Advisory Council, the Vanderbilt Kennedy Center Leadership Council and the board of the Monroe Carell Jr. Children's Hospital at Vanderbilt. She also co-chaired the Vanderbilt University Medical Center's $625 million portion of Vanderbilt's Shape the Future campaign.
"Through her devoted leadership and keen philanthropic vision, Alyne brought joy and hope to many," said Vanderbilt University Chancellor Nicholas S. Zeppos. "I will be eternally grateful for her deep love of Vanderbilt and for the myriad ways she empowered the university and lifted up our wider community."
During the launch of the Shape the Future campaign in 2003, Massey said, "Vanderbilt Medical Center has lifted the bar for scientific research and offered patients life-extending services along with renewed quality of life. Like an oasis in the desert, it provides hope and serves as a resource for patients and the persons who love and care for them."
In addition, the Alyne Queener Massey Law Library at Vanderbilt Law School is named for her. Her husband, Jack Massey, donated the money for the library in her honor.
Among her interests while serving on the Vanderbilt Board of Trust was the beautification of the physical boundary between Vanderbilt and Nashville. She served on the board committees for Student Affairs and Buildings and Grounds. A 1999 article in the Vanderbilt Hustler noted her interest in student life, including the hosting of an annual dinner for student leaders.
Born in New Haven, Conn., Massey grew up in Columbia, Tenn., where her father, Millard E. Queener, was an attorney. Her mother was Adeline Frierson Armstrong Queener. Massey went to Ward-Belmont Preparatory School and then enrolled in Vanderbilt's College of Arts and Science, where she majored in history and minored in English. Massey, a member of Delta Delta Delta Sorority, earned a bachelor of arts in 1948.
At one time Massey was a reporter for the Nashville Banner and a manager of what was then known as the Women's Division of Commerce Union Bank.
Massey was the widow of Nashville businessman Jack Massey, who co-founded Hospital Corporation of America and Kentucky Fried Chicken. She had earlier been married to Leonard Hearne Armistead Jr., editor of the Franklin Review Appeal, who died in 1971. Also predeceasing Massey was her sister Lucille Frierson Queener Courtney.
Massey was the first woman to serve on the board of Third National Bank. She also had been on the board of Volunteer Capital Corporation and was involved in numerous local and national philanthropic causes.
Massey was a lifetime trustee of the Cheekwood Botanical Gardens and Museum of Art. She helped found the Community Foundation of Middle Tennessee and the Tennessee Performing Arts Center. She had served on the advisory boards of the Tennessee Performing Arts Foundation, the John F. Kennedy Center for the Performing Arts in Washington, D.C., and the Nashville Mental Health Association, where she established the Jack C. Massey Leadership Award.
She was a member of the Friends of Warner Parks, Colonial Dames of America, Garden Club of Nashville, Centennial Club, James K. Polk Memorial Association and Ladies Hermitage Association. Massey was a supporter of the Nashville Symphony, Outlook Nashville, Historic Nashville and Planned Parenthood. She was a founding member of the Tennessee Parks and Greenways Foundation and the Maury County Heritage Land Trust.
She had been a member of the board of directors of Blair House and the James Madison Council of the Library of Congress in Washington, D.C. In Palm Beach, she was a member of the boards of the Society of the Four Arts and the Preservation Society.
She is survived by two sons, Leonard Hearne Armistead III and Robert Hunter Frierson Armistead; and four grandchildren, Stephanie Alyne Armistead, Massey Frierson Armistead, Anne Parkes Armistead and Lewis Addison Armistead V. She is also survived by her sister Elizabeth Myers Queener.
Visitation is scheduled Friday, Sept. 14, from 1 to 3 p.m. in Cheek Hall at First Presbyterian Church, 4815 Franklin Pike. A memorial service will follow in the church sanctuary.
In lieu of flowers, contributions can be made to Vanderbilt University Law School or Cheekwood.