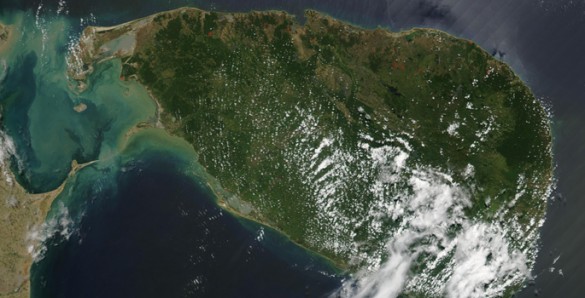 The small island nation of Sri Lanka exemplifies some of the worst conditions and best responses to the world's environmental challenges.
Located in Southern Asia off the coast of India, Sri Lanka is about the size of West Virginia. The country's climate, terrain, natural resources and socio-political conditions combine to present a microcosm of how developing countries must adapt to climate change and water quality and quantity.
In 2010, the Vanderbilt Institute for Energy and Environment (VIEE) began a unique interdisciplinary study of agricultural adaptation to water scarcity in Sri Lanka's Mahaweli River Watershed (MRW).
Now a five-year, $3.7M grant from the National Science Foundation, through their Water Sustainability and Climate program, will further the VIEE study and its global best practices.
Members of the research team include principal investigator and VIEE Director George Hornberger, James Fraser, Human and Organizational Development; Jonathan Gilligan, Earth and Environmental Sciences; Amanda Carrico, VIEE and the Vanderbilt Climate Change Research Network (CCRN); Lanka Thabrew, VIEE; and Heather Truelove, formerly of VIEE and now an assistant professor at the University of North Florida.
"What great news! I congratulate George Hornberger and his collaborators," said Dennis Hall, Vanderbilt vice provost for research. "[rquote]This is important research and an excellent opportunity for graduate students to develop and sharpen their research skills."[/rquote]
The VIEE study was developed in collaboration with colleagues from the National Building Research Organization and the University of Moratuwa in Sri Lanka. Initial funding from the Vanderbilt International Office continued in 2011 under a university Discovery Grant. Funding from Vanderbilt was critical to developing a successful collaboration with local organizations and scholars in Sri Lanka.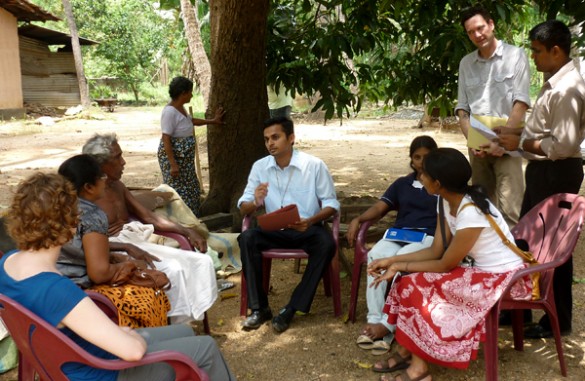 Water scarcity is a growing concern in the U.S. and throughout the world, affecting an estimated one-third of the population on every continent. The problem is particularly urgent in developing countries like Sri Lanka that are heavily reliant on agriculture. It has been estimated that irrigated agriculture accounts for nearly 90 percent of fresh water usage, making effective water resource management critical for food security, health, and political stability.
"Our entire research team is enthusiastic about extending our work under NSF sponsorship for the next five years," said Hornberger. "[lquote]The research is especially appealing because it embodies fundamental new work but will also provide information that can be used to choose adaptation strategies to enhance human welfare."[/lquote]
In addition to the principal investigators, the research team includes postdoctoral fellow Josh Bazuin and Ph.D. candidate John Jacobi. Two new Ph.D. students, Emily Burchfield and Thushara Gunda, also plan to contribute to this research project through their dissertation work.
The research methodology planned for the project includes longitudinal surveys of farmers, regional drought indices, policy and archival analysis, and agent-based modeling. These methodologies will enable the team to investigate how Sri Lankan farmers adapt to changing water availability and how these decisions are affected by psychological, social, institutional, and environmental factors. More information can be found on the project website.
VIEE research team members have traveled to Sri Lanka three times over the past two years to attend national workshops, meet with collaborators and local stakeholders, and to coordinate research efforts.