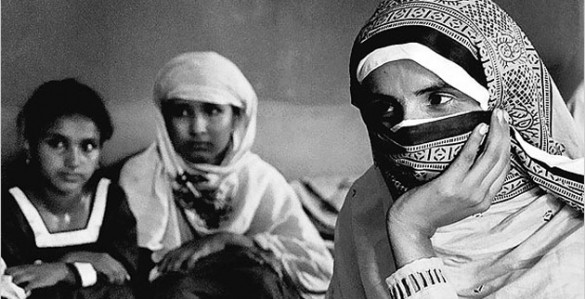 A tradition among first-year students to read and discuss a common text has inspired a campuswide initiative designed to raise nuanced dialogue about gender and sexuality across the Vanderbilt community.
The themes explored in the 2012 Commons Reading Half the Sky: Turning Oppression Into Opportunity for Women Worldwide will be expanded through an initiative called "Human Identities: Global, Local, Personal," which will bring international and nationally renowned speakers, art exhibits, film and related programming to Vanderbilt this academic year.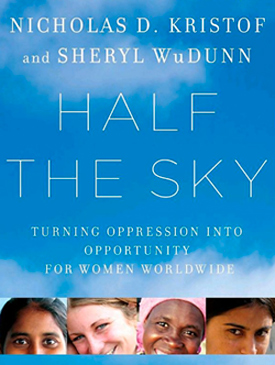 Half the Sky was chosen for the Commons Reading from more than 175 titles nominated by faculty, students and staff. Written by the Pulitzer Prize-winning husband-wife team of Nicholas Kristof and Sheryl WuDunn, the 2009 book uses individual stories and social and political context to shed light on injustices being faced by women in parts of Asia and Africa – such as sex trafficking, maternal mortality, sexual violence and girls' education – and argues that the oppression of women worldwide is "the paramount moral challenge" of our time. The book was mailed to incoming first-year students' homes in June, and they were tasked with reading it before coming to campus in anticipation of discussing the work in their Vanderbilt Visions groups throughout the fall semester.
The book's themes will take root beyond the small-group setting through a series of events under the Human Identities umbrella. Several academic departments, a number of centers and some two dozen student groups have signed on to participate in the programming. "The goal of Human Identities is to last the entire academic year, and to engage first-year students in their context as well as the whole of campus through a variety of related programs from a host of different perspectives," said Cynthia Cyrus, associate provost for undergraduate education.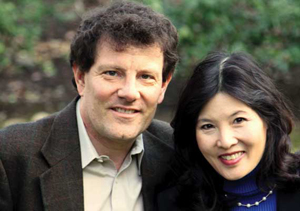 Among the planned events are lectures by both authors of Half the Sky. WuDunn will give the Lawson Lecture on Sept. 24, and New York Times journalist Kristof will appear as part of the Chancellor's Lecture Series on Jan. 31, 2013. In mid-September, three international labor activists will comprise a panel discussing the transformative potential of philanthropy in the women's human rights movement, and the panelists will interact with students and faculty in a variety of classroom and small-group settings. And beginning Oct. 12, Long Story Bit by Bit: Liberia Retold, an exhibition of war photography by the late Tim Hetherington, will open at Vanderbilt Fine Arts Gallery. Hetherington, an award-winning photographer and Academy Award nominee for the documentary film Restrepo, was killed while covering the Libyan civil war in 2011.
Organizers say Half the Sky is not only a compelling read, but also as an unmistakable call to action – further reason why it has deep implications for the Vanderbilt campus.
"I think it's easy to read a book about someone in a faraway place and think of them as an 'other,'" said Nora Spencer, director of the Margaret Cuninggim Women's Center and the Office of LGBTQI Life at Vanderbilt. "The Human Identities program will encourage students to personalize the book's message and find their own identities within a larger discussion, then figure out how to begin to integrate these identities within a worldview or local view or Vanderbilt community view." Organizers hope participating in this larger discussion will leave a lasting impression on students, helping to direct their coursework and shape their pursuit of service learning throughout their Vanderbilt careers.
"Our motto with Human Identities is: 'Read, think, act, grow,'" Cyrus said. "It implies a multistage process of development. It's very much a part of our educational mission, and it unifies a range of themes one must consider as a member of a campus community."
Fall events for "Human Identities: Global, Local, Personal" include:
Now through Oct. 15 – "Making Strides: Women as Agents of Social Change," an exhibit illustrating women's efforts in the Nashville community to promote equal rights and to gain access to education, family planning and employment, featuring rare materials from Vanderbilt Libraries Special Collections. Central Library, floors 4 and 6

Guatam Raghavan

Sept. 9, 7 p.m. – "LGBTQI Issues Update with Gautam Raghavan," the White House's associate director of public engagement. Student Life Center Board of Trust Room

Sept. 17, 4:30-5:30 p.m. and Sept. 18, 4-5 p.m. – "The Power of Women's Activism, Locally and Transnationally," panel discussions featuring Kalpona Akter and Babul Akhter, co-founders of the Bangladesh Center for Worker Solidarity, and Ida Le Blanc, general secretary of the National Union of Domestic Employees. The Commons Center Multipurpose Rooms 235-237
Sept. 19, 4-5:30 p.m. – "Philanthropy Transformed," a panel featuring Akter, Akhter and Le Blanc discussing ways in which philanthropy can support women's human rights activism, moderated by Associate Professor of Political Science Brooke Ackerly. Wilson Hall, Room 126
Sept. 24, 7 p.m. – "Empowering Women Around the World," the Lawson Lecture featuring Sheryl WuDunn. Langford Auditorium; seating is limited, with priority given to the Class of 2016
Oct. 12-Dec. 6 – "Long Story Bit by Bit: Liberia Retold," photo exhibition by Tim Hetherington. Vanderbilt Fine Arts Gallery; opening reception Oct. 12, 5-7 p.m.
Human Identities is sponsored by the Office of the Provost in collaboration with The Martha Rivers Ingram Commons, the departments of Political Science and Women's and Gender Studies, the Margaret Cuninggim Women's Center, the Office of LGBTQI Life, the Office of the Dean of Students, Residential Life, the Bishop Joseph Johnson Black Cultural Center, the Global Education Office, International Lens and Central Library, among others.
For more information, visit the Human Identities website. For questions or comments, email human.identities@vanderbilt.edu.