Media Inquiries
Latest Stories
Construction continues at the site of College Halls at Kissam, the two-year project to create Vanderbilt's newest residential colleges. Blasting will begin at the construction site the week of July 2 and last through the month of July.
Blasting is planned for 2 p.m. Monday, July 2, and 2 p.m. Tuesday, July 3. Beginning the following week, blasting could occur three times per day – 6:30 a.m., 10 a.m. and 2 p.m. – for three weeks. No blasting will occur on Sundays.
The blasting is to excavate rock that sits at the foundations of the former Kissam Quadrangle buildings, which are currently being dismantled to make way for College Halls.
It's important to note that the blasting will mostly be felt, rather than heard, according to Tony Fort, director of architecture and construction at Vanderbilt. More than being highly audible, the blasting may be felt for a two- to three-block radius around the construction site.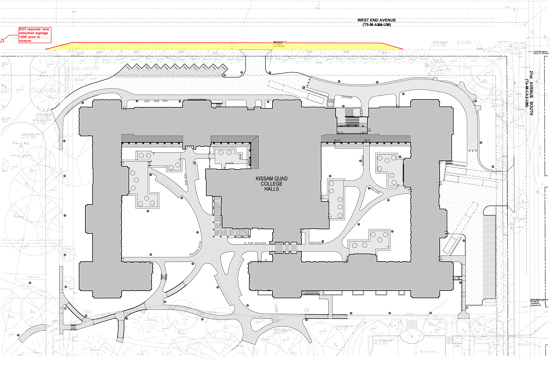 Also, workers will soon erect a cover over the sidewalk along West End Avenue near the construction site to ensure pedestrian safety, and a portion of West End's right-most lane will be closed for the duration of the project.
Beginning Thursday, July 5, approximately 10 metered parking spaces on West End Avenue between the university's Kirkland Esplanade entrance and 21st Avenue South will be closed for the next 18-23 months. Department of Transportation signage will be in place to alert drivers, and the closure will taper at both ends, allowing drivers to merge into West End traffic when exiting the Kirkland Esplanade and giving them access to a turning lane from West End onto 21st Avenue South. The MTA bus stop at the corner of West End and 21st Avenue South will not be affected.
This partial lane closure will allow drivers of construction vehicles to have better visibility when entering and exiting the construction site from West End Avenue. Flagmen also will be present to direct construction-related traffic.
The sidewalk along West End Avenue will remain open throughout the project, with the exception of a few days in July when workers are erecting the sidewalk cover.
The completed College Halls – a $115 million project comprising two new, state-of-the-art residential colleges connected by a light-filled central gathering and dining space – is scheduled to open in fall 2014.