Vandy rocketeers come in third in national competition
by
David Salisbury
Jun. 26, 2012, 3:44 PM

For the third year in a row the Vanderbilt Aerospace Club has come in third in the national rocket competition that is part of the NASA University Student Launch Initiative (USLI), a yearlong program that culminated in a rocket launch event on April 22.
The Vanderbilt team was one of 42 university teams that vied to see whose rocket could come closest to the 1-mile altitude goal and safely return to Earth with an on-board science payload. The national ranking is determined by a panel of experts based on six different factors: rocket performance, the team's design reports and final report, team attitude, website and outreach program.
In addition to the third place overall ranking, the Vandy rocketeers also took first prize for their payload, also for the third year in a row. This year it was a ramjet engine, a small and simple type of jet engine that only produces thrust after it is accelerated above a minimum speed.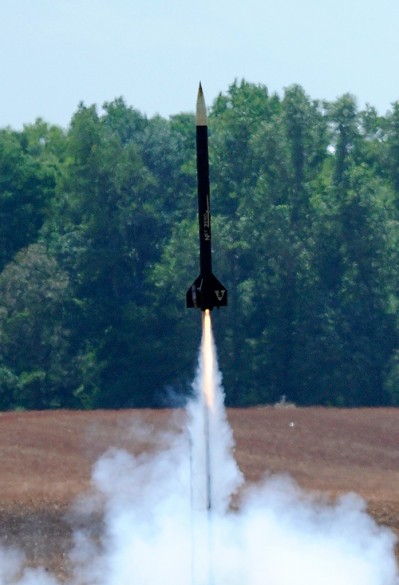 "This year the team took on a very difficult project, the design of a subsonic ramjet engine followed with its performance study on a rocket flight. Many complex systems including fuel delivery, fuel ignition and flame sustenance had to work well," said A.V. Anilkumar, the club's faculty adviser and professor of the practice of mechanical engineering.
"I am really proud of this team and the efforts they put in to perfect this challenging payload. It has been three years in a row, and the pressure to deliver was very high, the third time around," he said, "particularly since designing a novel complex payload, and facing the challenges it poses, cuts into the team's overall performance and ranking at the competition to a certain extent. But we look at this as an opportunity to train unique aerospace engineers who can think outside the box and come up with creative solutions."
The rocketeers also received an award for the quality of their outreach program. They have teamed with Peabody College's Department of Teaching and Learning to design lesson plans that would ignite youngsters' interest in engineering by building and launching bottle rockets. The "Take ME to School" program was organized last semester as part of the secondary science teacher practicum experience. The engineering students worked with Vanderbilt education students who teach science at area schools as part of their licensure requirements to create a short, four-day rocketry unit that incorporates engineering design principles.