UPDATE: Watch streaming video of the transit at news.vanderbilt.edu starting at 4:45 p.m.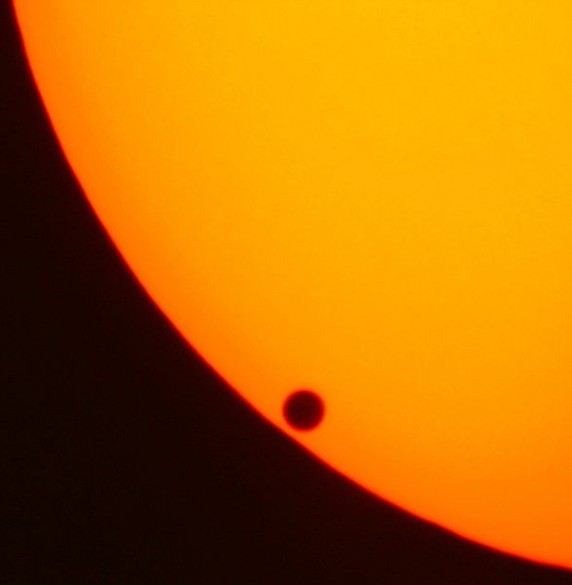 At 5:04 p.m. Tuesday, June 5, the planet Venus will transit, or pass directly in front of, the sun. The transit of Venus is extremely rare, occurring twice in eight-year periods more than 100 years apart. The most recent transit of Venus was in 2004, and it will not happen again until the year 2117.
This event is sponsored by Dyer Observatory and the Radnor Lake State Natural Area.
During the transit, Venus will appear as a small black dot against the disk of the sun. Because the transit will not be visible by looking directly into the sun, Dyer will provide solar telescopes, solar viewing glasses and an LCD TV screen on which to view the event. Astronomers will be on hand to demonstrate other creative ways to view the event and answer questions. In addition, Radnor Lake staff will offer a bird of prey demonstration and rangers will be available to answer questions. Restrooms are available at Dyer.
Schedule of events:
Gates open at 4 p.m. to preview the transit
Transit begins at 5:04 p.m.
Viewing ends at 7:40 p.m.
Viewing will be canceled only for severe weather.
The event is free, but donations are welcome and reservations for cars are required. Please reserve parking online.*
Dyer Observatory is located at 1000 Oman Drive in Brentwood. Get directions.
*Due to overwhelming popularity, both the parking reservation list and waiting list are currently FULL. Please check back closer to the date for openings. You may view the transit online at news.vanderbilt.edu.

MEDIA NOTE: Media do not need reservations. Please email Lynn McDonald or call 373-4897 to make arrangements.