Written by Kurt Brobeck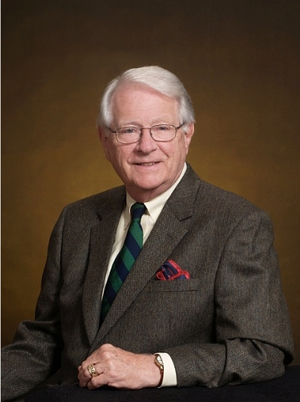 Watch video of Stedman's address below.
Vanderbilt University's Peabody College of education and human development awarded its Distinguished Alumnus Award to clinical and developmental psychologist Donald J. Stedman during Commencement ceremonies on Friday, May 11.
Stedman earned his doctor of philosophy degree in clinical and developmental psychology in 1962 from George Peabody College for Teachers, as it was then named. He previously earned a master's degree from the University of Rochester and his bachelor's degree from St. Bonaventure University.
During his career, Stedman held teaching positions at Duke University, George Peabody College and the University of North Carolina at Chapel Hill. At the latter, he served as professor of education and associate director of the Frank Porter Graham Child Development Center and as chairman of the Division of Special Education. In 1990, he was appointed dean of the School of Education. He retired in 1999.
"Donald Stedman has led an outstanding career that has uniquely integrated scholarship, governmental and private sector service and administration," said Camilla P. Benbow, Patricia and Rodes Hart Dean of Education and Human Development at Peabody. "Most importantly, he has applied his considerable knowledge and skills toward the betterment of others' lives, including teachers and learners and those with special needs."
Stedman said, "It's a great thrill and honor to be recognized by my alma mater. [rquote]It's exactly 50 years since the day I received my degree from Peabody and that makes it even more special[/rquote]. Peabody and the Vanderbilt Kennedy Center are tops on the planet and they are very special places."
While teaching at Peabody College, Stedman was associate director and subsequently director of its John F. Kennedy Center for Research on Education and Human Development.
In addition to his service at UNC Chapel Hill, Stedman held appointments with the University of North Carolina system as associate vice president for academic affairs and vice president for research and public service programs. He also chaired the North Carolina Council for Healthy Schools.
In 2006, he founded and became CEO of New Voices Foundation, a North Carolina organization that serves children with physical and communicative disabilities and counsels schools to help meet their needs. He remains a member of the foundation's board of directors.
Early in his career, Stedman was appointed associate director of the Joseph P. Kennedy Jr. Foundation in Washington, D.C. While there he helped to develop the foundation's International Awards Program, which recognizes excellence in the field of child development and intellectual disabilities. He participated in the design of the National Institute for Child Health and Human Development, and shared in the development of the Special Olympics under R. Sargent Shriver and Eunice Kennedy Shriver.
Stedman is the author of many articles and research publications. He has been a fellow of the American Psychological Association and the Society for Research in Child Development and has been an active member of the International Council for Exceptional Children and the American Educational Research Association. He has consulted widely for both state and federal governments.
Among his many awards, he received the 2010 Civic Ventures-Encore/John Templeton Foundation Purpose Prize, the 1990 Award for Vision and Creativity in Education from the North Carolina Center for the Advancement of Teaching, and The Order of the Long Leaf Pine, in 1981, which recognizes distinguished service to the state of North Carolina.
Stedman is married to Helen Coburn Stedman. They have four children, eight grandchildren and one great grandchild. The Stedmans currently reside in Chatham County, N.C.
Written by Kurt Brobeck