Kissam construction, Alumni Hall renovation begin May 14
by
Kara Furlong
May. 11, 2012, 9:20 AM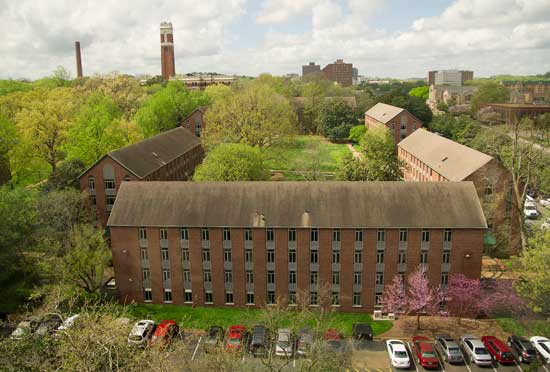 Beginning Monday, May 14, construction begins on College Halls at the current site of Kissam Quadrangle. The two-year project will tear down the six existing dorms that comprise Kissam Quad – located at the corner of West End Avenue and 21st Avenue South – and replace them with two large residential colleges connected by a central gathering and dining space.
The construction of College Halls will immediately encompass surface parking lots 3 and 4 adjacent to Kissam Quad and West End Avenue. Students, faculty and staff accustomed to parking in these lots are asked to now park in any available, non-reserved Zone 2 spaces, such as the Terrace Place garage, the Wesley Place garage or any Zone 2 surface lots. The sidewalk that runs between Kissam and Wilson Hall will remain clear throughout the construction process to give pedestrians safe and easy access to campus.
May 14 also marks the start of extensive renovation to Alumni Hall. This project calls for expanded terraces, a new classroom, music lounge, exercise room, writing center, faculty office suite and café. The renovation of Alumni Hall is scheduled to wrap up in July 2013, a full year before College Halls at Kissam is complete.
These projects will bring increased traffic, including construction vehicles, to the Fine Arts Circle near Vanderbilt Hall and Old Gym, as well as to 21st Avenue South, though no road closures are expected at this time, according to Lance Hale, manager of Traffic and Parking.
The College Halls and Alumni Hall projects join the renovation of Sarratt Student Center and Rand Hall – made possible by the bookstore's move to 2525 West End last fall – that is currently under way. The Sarratt/Rand renovation will necessitate the move of several offices for summer 2012. A list of these offices' temporary summer locations can be found here.
Rand Dining Center will be closed until August 2012, while the Station B post office in the basement of Rand will remain open, and mail services will not be affected.
All three projects will bring a much-needed vitality to an underused portion of campus, said Susan Barge, associate provost for strategic initiatives.
"We will have a lot to show for all the activity taking place here over the next couple of years," she said.