Media Inquiries
Latest Stories
The Ingram Commons' first class graduates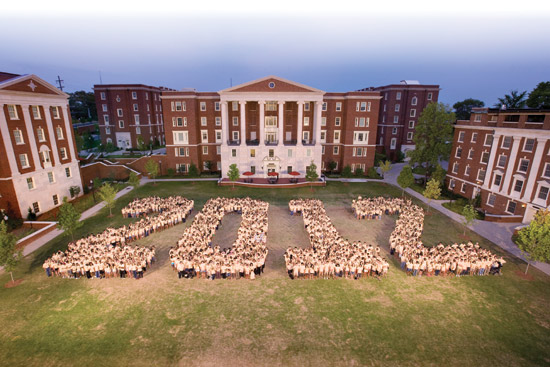 On a bright spring day four years ago, Jeremy Williams had a choice to make. His college decision had come down to two schools – Vanderbilt or Harvard – and he was stepping onto the former's Nashville campus for the first time.
"My mom and I visited some of the hot spots  – Admissions, Rand, the Black Cultural Center – and then we crossed 21st Avenue and saw The Commons," Williams recently remembered on an equally bright spring day from a bench near Gillette House, his first-year home.
"Everybody had made a point to say that I'd be in the first class to live on The Commons," he said. "And when I saw it, something told me, 'This is exactly where you need to be.' I could see myself here for the next four years – that it would be a place to develop me and mold me into the type of person that could make a real impact on the world."
Great Expectations
Williams wasn't alone in his expectations. They ran high in August 2008 when The Commons – renamed The Martha Rivers Ingram Commons last year in honor of the university's retiring Board of Trust chairman – opened to its inaugural class of first-year students.
More than a decade in the making, The Ingram Commons would gather for the first time all freshmen in one location. They would live among 10 houses alongside faculty mentors, promoting new levels of conversation and engagement. The first-year students would participate in programming designed to help them acclimate to university life and nurture their development as proactive members of the Vanderbilt community. But would this new tradition of living and learning on campus succeed?
"[rquote]During the opening convocation four years ago, the students were invited to leave their mark on the project," said Frank Wcislo, dean of The Ingram Commons since its inception, "and they certainly have. They've changed Vanderbilt in important ways.[/rquote]
"They've changed it through their interactions with professors in the classroom and through their service projects. They've definitely changed it in terms of making what was already a very rich community experience at Vanderbilt even richer," he said.
Wcislo likens the Class of 2012 to first-born children. "As first children, they've been confronted with the task of taking their 'parents' through every stage of the maturation process for the first time. These guys have had to train us," he said. "Parental pride in this class comes from the work that they've done, which has been quite amazing."
The Opportunity Advocate
During his first days on campus, Williams remembers warily sizing up a fellow classmate. Now he counts him among his closest friends. Williams said that a special kind of bonding takes place at The Ingram Commons.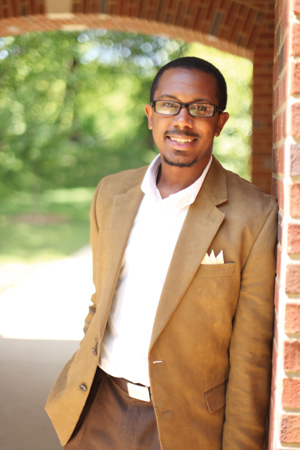 "It was out of being in close proximity to each other that we learned to value differences and to come closer to people we initially couldn't find anything in common with," the Huntsville, Ala., native said.
He also gained new perspective on a longtime calling. An ordained minister in the Christian Methodist Episcopal Church, Williams always planned to pursue ministry but thought he might have to do so in addition to another vocation.
"Seeing all the different types of social and community activism on campus – that working to make people's lives better doesn't have to be just a moonlight job – made me realize that's where my heart is," said the religious studies and economics double major.
He will continue his education at Yale Divinity School, but plans to defer for a year to write and speak on behalf of Dream Better Dreams, the organization he founded to encourage young people to set higher education as a goal.
"I want to help people dream better dreams – other young preachers like me who need training so they can be more tolerant in their perspectives and more informed when they present messages," he said. "And I especially want to work with public school students to show them that college is within their reach."
The Children's Champion
For Brittany Cowfer, The Ingram Commons' welcoming campus, as well as the effort made to carve out a unique experience for first-year students, made a distinct impression. "I think it was crucial to feel that support and care in the beginning," she said.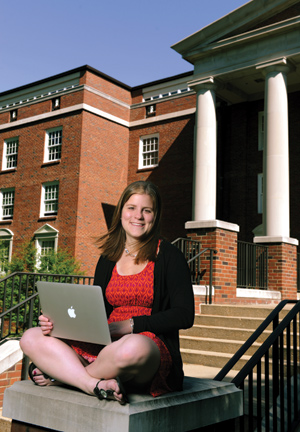 For one thing, it made the transition to college life easier. The molecular and cellular biology major from Jacksonville, Fla., remembers the sense of camaraderie created among her fellow first-years also taking a tough pre-med course load. "Having that 'we're all in this together' mentality and coming back to the same place after class each day went a long way toward helping me realize I would get through it," she said.
Cowfer appreciates the opportunities she encountered to seek outlets outside of the classroom. For instance, a student organizational fair held on The Commons Lawn introduced her to Big Brothers Big Sisters of Middle Tennessee, and she went on to start a Vanderbilt chapter of the organization and double the number of the university's students who participate. She even tapped Frank Dobson, her faculty head of house freshman year, to serve as the group's adviser.
This summer, Cowfer is organizing Camp Kesem, a free sleep-away camp for children with a parent battling cancer, for which she has recruited other Vanderbilt students to serve as counselors. It marks the first time this national program has been offered in Middle Tennessee. It's a final act of service before heading to medical school in the fall, where Cowfer plans to study pediatric genetics or oncology.
Cowfer said the path she began at The Ingram Commons and the opportunities she's found along the way have only served to clarify her plans for the future. "It's helped me to realize that being a physician is the best role for me," she said. "I want to continue to work with children."
The Inventor
Scott Nill knew what he wanted to be the moment he saw Caractacus Potts – Dick Van Dyke's character – fabricate a flying car in Chitty Chitty Bang Bang. As a wide-eyed 7-year-old watching the movie with his grandmother, he turned to her and declared, "I want to be an inventor."
Nill, from Fort Wayne, Ind., participated in robotics competitions throughout middle and high school and always thought he would attend a technical university. But his pre-college visits to those institutions left him wanting. At Vanderbilt, he found a "community within a community" at the School of Engineering and a kindred spirit in Faculty Head of Murray House Sharon Shields, he said.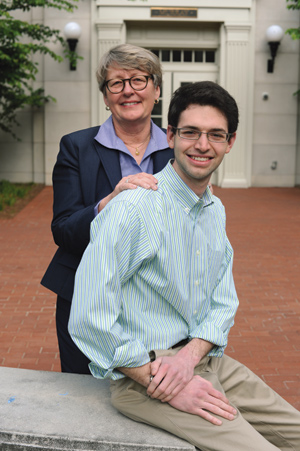 "I love to tell and hear stories, and if you know Dr. Sharon, you know she's full of really, really cool stories," Nill said. "Getting to know her removed a lot of the remoteness I was expecting to feel from faculty."
"One thing The Commons does so well is it gives us lots of ways to interact," Shields said. "So you get to have those conversations. You get to just hang out and be present with students in a way that only comes from being in close proximity to them." Shields noted that she and Nill have made a point to share a meal at least once a semester over the last four years.
Nill has fond memories of impromptu house gatherings known as "Murray Magic"; the time he spent with Shields' father, the Rev. Alan Shields – affectionately known as "Pop" to the students – who lived in Murray House before his death in 2009; and the night he was invited along with a select group of students for dinner and conversation with the chancellor at the dean of The Commons' residence.
This variety of experience inspired Nill to re-invent himself, exploring Vanderbilt's intellectual offerings far beyond his mechanical engineering major. Some of his favorite classes were taken in the Department of Economics and at Blair School of Music. It's given balance to his time at Vanderbilt – and made him a better engineer, he said.
Nill has devoted most of his energy to building race cars with Vanderbilt's Formula SAE team and doing research with Assistant Professor of Mechanical Engineering Bob Webster in his Medical and Electromechanical Design Lab, where they work to advance the science of robotics, mechatronics and medical engineering and apply their results to real-world surgical problems. His next stop is graduate school at MIT. "In retrospect, I wouldn't change a thing about my experience here," he said.
The Community Builder
As the first-ever students at The Ingram Commons, the Class of 2012 had to navigate some uncharted territory. Some aspects of the programming were deliberately left unfinished so the students could put their stamp on it.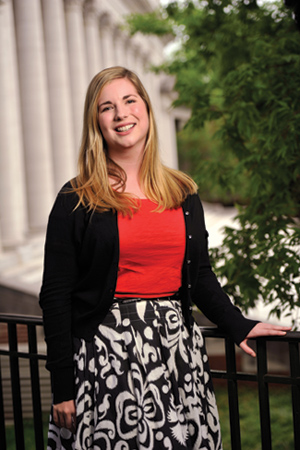 "I loved having that freedom to be creative," said Ali Thomas, who served as secretary of Gillette's house advisory council freshman year and helped to plan holiday parties, service opportunities and informal events involving faculty. "It's cool to see how some of the ideas we put in place have become Commons traditions."
The St. Louis native saw firsthand the importance of engaging students in their downtime and exposing them to the idea that valuable learning could take place outside the classroom. She said one sure-fire way to reach students was through their stomachs. "A lot of Commons programming happens around food. It's a built-in activity and brings people together."
Like many of her classmates, Thomas felt a deep desire to return to The Commons after freshman year to work with the students who followed. She became a VUceptor, an undergraduate peer mentor and integral component of The Ingram Commons experience, even serving this year as the program's president. It has allowed her to continue her loves of interacting with people and building community, she said.
The human and organizational development and Spanish double major will attend the Harvard Graduate School of Education next year to focus on international education policy and its role in diplomacy and development. She expects to feel some culture shock after four years on a Southern campus, but plans to carry some of The Commons' ethos with her.
"The Commons is such a nurturing, community-based environment," she said. "I hope to take that with me wherever I go."
The Documentarian
As a first-year student living in North House, Patrick McGovern would go to Head of House Greg Barz's residence and beat on the family's drum set from time to time. But the music lover from Austin, Texas, had no idea this might lead to a life-changing experience halfway around the world.
When Barz, an associate professor of ethnomusicology at Blair School of Music, was planning a research trip to East Africa for the summer of 2010, he invited McGovern – a neuroscience major – to assist him. "My first thought was, 'Why me?'" McGovern said. "Of course, it sounded like a great opportunity. But I didn't consider myself qualified in any way to do ethnomusicology research in Africa. I wasn't even sure what that would entail."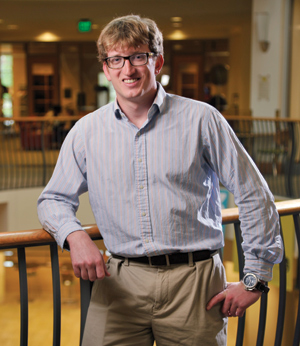 Barz and McGovern spent more than four weeks in Rwanda documenting Sophie Nzayisenga, one of only a handful of musicians in the world who play a traditional stringed instrument called the inanga as a means of post-genocidal reconciliation. McGovern's job was to take still photographs and write about the experience, tasks that challenged him in whole new ways. "As a science major, I'd had it kind of drilled into me that I'm a poor writer," he said. "But when you're doing such interesting things all day, it's easy to write about them."
Professor and student returned to Nashville and spent months painstakingly editing their recordings into a CD, companion film and booklet that they had produced as Inanga: A Song of Survival in a Daughter's Rwanda. For the past two years, McGovern has spent a week each spring guest lecturing in Barz's African music class about the material. It's the ultimate example of a Commons faculty member and a student collaborating on a shared passion.
The experience was such a turning point that McGovern briefly considered a change of major. "Traveling to Africa made me want to be a crusader for the people there," he said. "But I decided I can do the most good with the skills I have by sticking with medicine."
En route to medical school, McGovern will go to work at Epic, a Wisconsin-based health care software firm. He encourages other students to step outside the box during their college careers. "This is your chance to explore new things," he said, "so take it."
Moving On
The members of the Class of 2012 aren't the only ones graduating this spring. Several of The Ingram Commons' original heads of house are also transitioning to new roles and experiences.
"I'm a little sad, a little nostalgic, but also really excited to be moving on," said Shields, who several months ago was appointed associate dean for professional education at Peabody College. "[rquote]I think that's what the seniors are feeling as well. This is familiar to them; they lived here. I lived here four years, too. And now we're moving on together to other things that we need to accomplish in our lives."[/rquote]
What would Wcislo, the venerable dean, say to the first Commons class? "I would say, 'Thank you for the last four years. Thank each of you for the role you played in making those four years remarkable.'
"I hope graduates will look at The Commons as a place that not only gave them something, but allowed them to become something," he said. "That it gave them the room and opportunity to test, to explore and to become themselves."