Video of Senior Day with Tom Brokaw and of Commencement will be streamed live on the Vanderbilt homepage.
Three days of activities enrich the Commencement experience
For many graduating seniors, Commencement passes in a blur of gowns and camera flashes and choreography. Add emotional parents, excitement – and not a little trepidation – about the future, saying goodbye to friends and possibly a headache from the night before, and you have a lot to pack into a single day.
Fortunately, Vanderbilt graduates have three days to savor their final moments on campus with friends and family. Graduation activities begin the Wednesday evening before Commencement. This year, events kick off at 9 p.m. May 9 with THE PARTY, an outdoor dance celebration on The Commons Lawn featuring the cover band Liquid Blue.
Thursday, May 10, is Senior Day. "Senior Day is more relaxed than Commencement Day," said Matthew Redd, director of Commencement. "It allows students to gather, catch up and breathe before finalizing their experience at Vanderbilt as a student and becoming an alum."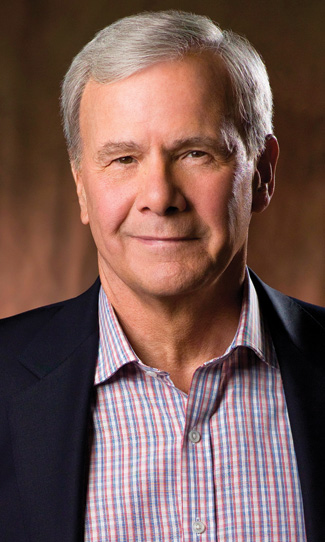 The day begins with a notable speaker who is presented with the Nichols-Chancellor's Medal, one of the university's highest honors. It is given annually to individuals who define the 21st century and exemplify the best qualities of the human spirit. Former winners include Vanderbilt alumnus and Grameen Bank founder Muhammad Yunus and first lady Laura Bush. This year's recipient is veteran broadcast journalist Tom Brokaw. Brokaw is "immediately recognizable in his field," Redd said. "We're excited to have him here for 2012."
Brokaw anchored NBC Nightly News from 1982 to 2004, reporting on many of the most significant stories of the late 20th century. In addition, he reported for 25 documentaries spanning a wide range of topics, including climate change, the War on Terror, Los Angeles gang life, AIDS and immigration. He is a bestselling author of several books documenting the 20th-century American experience, most notably The Greatest Generation.
Brokaw told the Vanderbilt View that what he enjoys most about speaking to graduates is the opportunity to reflect on "what I have learned in recent years and what part of that experience is worth sharing."
"[rquote]This is a class imprinted by the hard lessons of a great economic downturn, coupled with the two longest wars in our nation's history," he said. "I am confident they have no illusions about the uncertainties and complexities of the life they're about to lead."[/rquote] Brokaw speaks at 11 a.m. May 10 in Memorial Gym.
After the speech, graduates and guests are invited to choose from four faculty seminars, which "offer guests a chance to experience the outstanding education their students have been receiving," Redd said. "It's also a chance to learn about the great research and development that our amazing faculty work on each day."
This year's faculty presenters are Christopher Loss, assistant professor of education, speaking on the value of higher education; Melanie Lowe, associate professor of musicology, discussing the aesthetics of "The Creation" by Haydn; Robert Webster, assistant professor of mechanical engineering, explaining advances in surgical robotics; and Sarah Igo, associate professor of history, examining the history of privacy in America.
Commencement exercises will take place on Alumni Lawn beginning at 9 a.m. Friday, May 11, with Chancellor Nicholas S. Zeppos addressing graduates and the awarding of diplomas, followed by the traditional Strawberries and Champagne celebration.