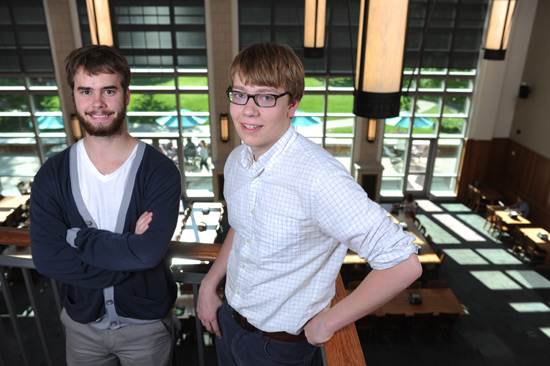 Two first-year students have teamed with Vanderbilt Dining for an innovative initiative to combat hunger in the Nashville community.
Mac Muir and Will McCollum, who both reside in Hank Ingram House at The Martha Rivers Ingram Commons, wanted to use a portion of the student meal plan to benefit Second Harvest Food Bank of Middle Tennessee.
The first-year student meal plan consists of 21 meals per week to be used at established times each day, plus supplemental "flex meals" that can be used anytime, explained Camp Howard, director of dining services.
At the end of the fall semester, Muir and McCollum encouraged their fellow first-year students to use their remaining flex meals to purchase nonperishable food items from Common Grounds, The Commons Center's convenience mart, and donate the items to Second Harvest. "Flex to Fight Hunger" collected an impressive 1,600 pounds of food in a week's time.
But the students had to actively solicit these donations and transport the items – some 32 boxes worth – to the food bank. In January, they approached Howard about collaborating with Vanderbilt Dining on a more efficient collection model.
Howard said that over the years, he has encountered his share of students who want to reallocate money from the meal plan to benefit various campus organizations and causes. "One of the most interesting things about Mac and Will's initiative, however, was that it wasn't tied to any specific organization," Howard said. "These are just two students who had an idea and wanted to do something good."
Muir and McCollum proposed Share-a-Side, in which patrons at The Commons Dining Center can forgo picking up a second side item with their meal in favor of donating its value to Second Harvest.
"At Vanderbilt we put a lot of effort into the quality of the food, and we encourage students to compile a complete meal during a dining experience," Howard said, noting that an entrée, two side items and a drink constitute a "meal" when it is rung up by a cashier. The brilliance of Share-a-Side, he said, is that it doesn't compromise the nutritional integrity of a meal, while also simplifying the donation process.
Those who wish to participate in Share-a-Side pick up a wooden nickel instead of a second side item; the cashier rings up its value; and the nickels are deposited into a collection jar. Vanderbilt makes a donation to Second Harvest in the amount of the collected nickels. And because Second Harvest is able to maximize the funds it receives, one donated side item from Vanderbilt is equivalent to one Second Harvest meal for a hungry member of the community.
"[rquote]The beauty of Share-a-Side is that it gives first-year students the chance to serve even in the ordinariness of their everyday schedule," Muir said.[/rquote]
"It's a way to shed light on an important issue in a really simple way," McCollum added. "The tangible nature of dropping the nickel into the container seems to resonate with people. First-year students understand that their simple act can make a real difference in the community."
Share-a-Side has been in place at The Commons Dining Center as a pilot program for the month of April. The students said 230-240 sides are being donated on an average weekday, about 1,300 in an average week – that's 1,300 meals each week for the Nashville community. "It's a lot of food going to people who need it," Muir said.
From its earliest stages, the students received encouragement and guidance on their initiative from Faculty Head of Hank Ingram House Kyla Terhune and the house council, as well as Dean of The Commons Frank Wcislo, who served as faculty VUceptor to Muir's Vanderbilt Visions group. Muir and McCollum uniquely branded Share-a-Side and created marketing materials, promoting the program through posters, email and word of mouth.
Howard was receptive to Share-a-Side because it meets a longstanding need for Vanderbilt Dining, he said.
"The Vanderbilt meal plan is not designed for philanthropic purposes, but for the sustenance of the students while they're here," he said. But the straightforward, sustainable nature of Share-a-Side makes it a program Vanderbilt Dining can support moving forward.
Close collaboration with administrators and the empowerment to see an idea to fruition is what the living-learning community at The Commons is all about.
"The coolest part is that these students have used The Commons as a platform for action, which is exactly what it's designed for," Howard said. "They worked with administrators and a department to create a program that will touch a lot of people and last longer and reach far beyond their freshman year. I applaud these gentlemen not only for their idea, but for their persistence in making it happen."
Wcislo commends the students for blazing a new trail, even by The Ingram Commons' collaborative standards.
"What's really interesting about this project, I think, is that it's not simply a collaboration with academic and faculty officers of the university, but a collaboration with the business side of the university, which has a huge reservoir of professional talent within it," Wcislo said.
"To provide Vanderbilt Dining and its director with the opportunity to interact with students creates all sorts of opportunities down the road for other students who are seeking to be creative in this way," he said. "The synergies that were created here are really, really cool."