Vanderbilt recognized by NIVS for outstanding efforts during flu season
by
Stacey Kendrick
Apr. 20, 2012, 11:00 AM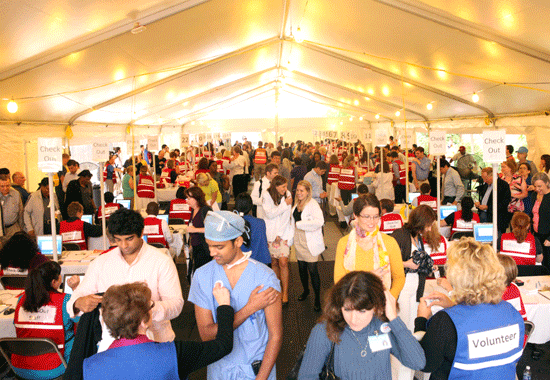 Vanderbilt's Flulapalooza mass vaccination event has received a 2012 National Influenza Vaccine Summit Immunization Excellence Award of Honorable Mention in the Corporate Campaign division for outstanding efforts during flu season. Nominees were evaluated based on the areas of impact, collaboration, originality, overcoming challenges and opportunities.
The primary goal of the Flulapalooza event was to test Vanderbilt's pandemic mass vaccination plan utilizing the seasonal flu vaccine. To generate the high volume of vaccine recipients Vanderbilt would anticipate in a pandemic, the Occupational Health Clinic and Department of Emergency Preparedness decided to stimulate interest among faculty, staff and students by challenging the Guinness world record for most vaccines given in one day. The event's secondary goal was to break the existing record of 6,215 vaccines in eight hours.
The challenge was not only to deliver vaccines, but also to coordinate logistics and communications on a large scale; to document the process appropriately; and to deliver the vaccine in a safe and controlled environment. Vanderbilt ultimately set a new Guinness world record, more than doubling the existing record with 12,850 flu vaccines given in 8 hours and 14,082 vaccines given for the entire day.
In addition to the direct effect of vaccinating more than 14,000 individuals in the Vanderbilt community, local media coverage of Flulapalooza was extensive. This generated interest and awareness about flu well beyond the approximately 35,000 faculty, staff and students invited to participate in the event.
"We were pleased with the event, not because of the world record, but because of all we learned in doing it," said Melanie Swift, medical director of Vanderbilt's Occupational Health Clinic. "I sleep better knowing we really could vaccinate everyone on campus in a pandemic."
The awards will be presented during the National Influenza Vaccine Summit in Atlanta, Ga., on May 17.