Media Inquiries
Latest Stories
Blair Big Band plays from the heart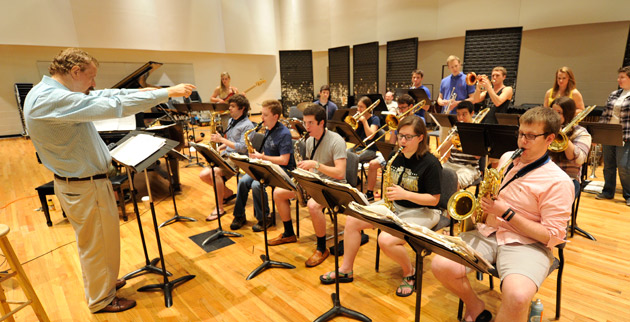 In the practice hall at Blair School of Music, a velvety voice is crooning Irving Berlin's "Let's Face the Music and Dance." Jubilant trumpets, a sizzling beat and funky, thumping bass notes carry joyous noise to hallways and classrooms, charging the air like an electrical current. Blair School is best known for its classical music program. So where is this jazz music coming from?
Just ask music industry veteran Billy Adair, senior lecturer of jazz and the husband of renowned jazz pianist Beegie Adair. A decade ago, he started up the student-populated 22-piece Blair Big Band, an ensemble not unlike the one he performed in as a student at George Peabody College back in the 1960s.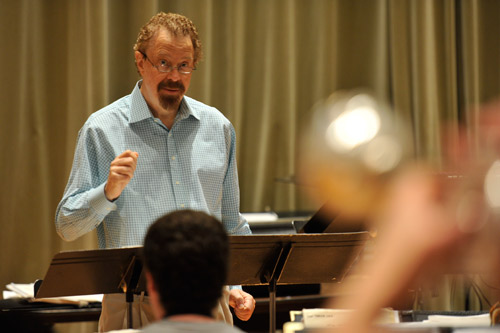 "I love jazz, and when I came to Blair in 2002, I wanted to find a place for it," he said. "Turns out a lot of students, classical included, enjoy some good jazz music, too."
Jazz is very different from classical music in that it requires its players to have the ability to improvise, Adair explained. "Jazz is different because you have to depend so much more on your ears. A great deal of what's going on with jazz doesn't rely as much on 'the page.'"
The presence of jazz at Blair has expanded under Adair's tutelage, with seven professors now offering classes on the subject.
"Having jazz at Blair diversifies the school, and it can help when recruiting a fine classical player who still wants to continue with his or her jazz playing," said Adair, who also chairs Blair's Department of Jazz and Folk Music.
The band is open to all Vanderbilt students by audition but attracts mostly music majors.
Because the players in the ensemble change from year to year, Adair said his work with the program is always interesting.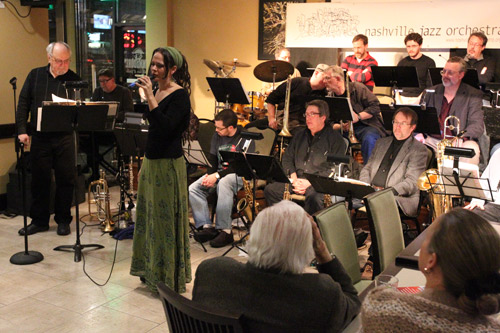 "We have had some amazing players who have gone on to play nationally, and I think our audience enjoys coming to see what new talent we have each season," he said. Building on his success with the ensemble,
Adair recently brought in the Nashville Jazz Orchestra for a residency at Blair, where members practice, perform and interact with students.
"We knew right away it was going to be a beneficial partnership," Adair said.
"What Billy Adair has done with the jazz program here is nothing short of amazing," said Cate Boulay, who plays bass. "It's given students the opportunity to explore a genre of music that isn't otherwise emphasized in the curriculum.
"[rquote]It's made them better musicians and much happier people. Jazz does that."[/rquote]
Boulay began playing the bass in fifth grade, mostly due to the fact that she was tall enough to support the heavy instrument.
"The orchestra director spotted me and handed me a bass, and that was that," she said. For the sophomore, who is majoring in musical arts and political science, playing jazz provides a good balance to her classical music studies.
"After working on the same concerto movement for multiple hours, walking some bass lines is a huge mental relief. It forces you to think for yourself on the spot," Boulay said. "It's really fun."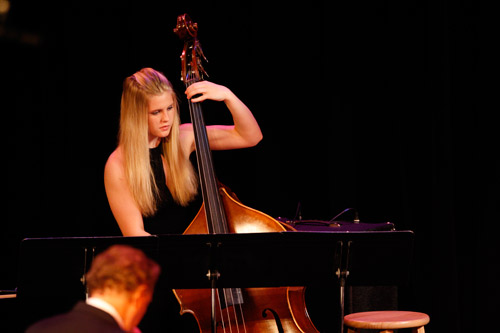 Fellow band member Shelby Flowers, a junior piano major with a composition concentration, has been playing piano since she was 5. She describes the improvisational nature of jazz to be "scary and exhilarating at the same time."
"Jazz is basically real-time composition, except that the success of the composition is dependent on a momentary reaction as opposed to a lot of careful planning," Flowers explained. "I often lose myself in the music more readily in jazz than in other genres. You have to dig deep to find something to say as opposed to spitting out notes that you've practiced thousands of times."
When Flowers graduates next spring, she is considering graduate school. But before that, she has other plans. "I have a cruise ship jazz gig lined up for the summer, and then we'll see," she said.
Boulay's not sure what career she'll pursue yet either but knows for sure that playing jazz will be a part of her future. "All I know at this point is that I never want to not be playing," she said.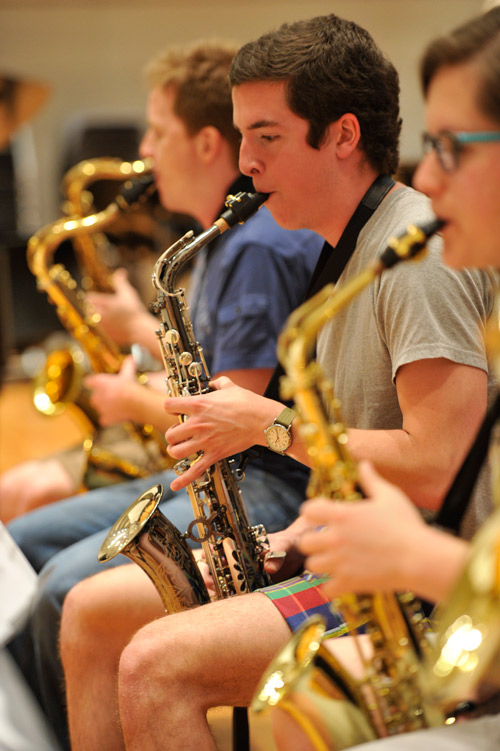 Brent Baker, a trumpet major with a corporate strategy minor, enjoys the culture fostered by jazz music.
"It's really cool that you can hear the musicians tell stories, have conversations and connect with each other and the audience," he said. He plans to remain in Music City after graduation and hopes to work in the music business while applying to graduate schools.
Adair, who spent decades working as a studio session player, bandleader, songwriter and jingle company owner, is willing to serve as mentor to Baker and the other students in his care with an interest in the business.
"That's the best part about directing the Blair Big Band – working with the students. They're the finest group of young people anywhere."