Spring Faculty Assembly set for March 29
Mar. 6, 2012, 10:00 AM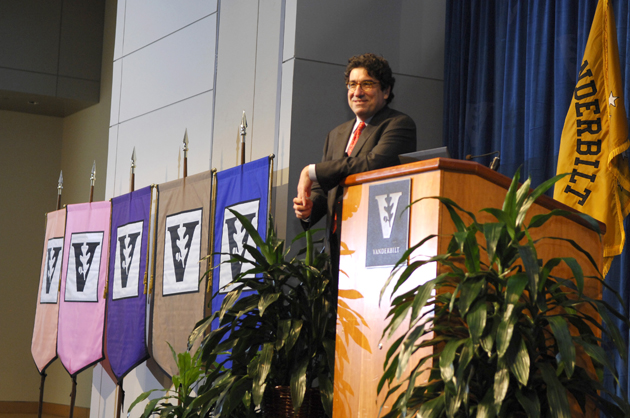 The annual Spring Faculty Assembly is scheduled for 4:10 p.m. Thursday, March 29, in Langford Auditorium.
Opening remarks will be provided by Faculty Senate Chair David Weintraub. The faculty presentation will be performed by Blair School of Music's Cornelia Heard and Amy Dorfman, who will play a movement from César Franck's Sonata for Violin and Piano.
Chancellor Nicholas S. Zeppos will present several of the university's highest honors to faculty, including the Harvie Branscomb Distinguished Professor Award, the Alexander Heard Distinguished Service Professor Award and the Joe B. Wyatt Distinguished University Professor Award. He also will announce this year's recipients of the Madison Sarratt Prize for Excellence in Undergraduate Teaching and the Ellen Gregg Ingalls Award for Excellence in Classroom Teaching.
A reception will follow at 5 p.m.
Contact: Lori Hemmer, (615) 347-9549
lori.hemmer@vanderbilt.edu