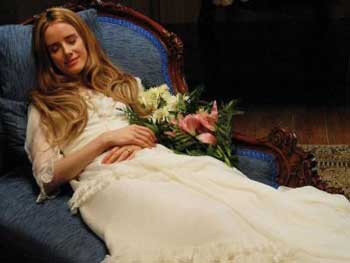 At 103, Manoel de Oliveira is the world's oldest working filmmaker. His 2008 work The Strange Case of Angelica screens at 7:30 p.m. Wednesday, Jan. 18, as part of the International Lens film series at Vanderbilt.
International Lens recently launched a full slate of films for its spring 2012 semester, which features acclaimed dramatic and documentary works each week through mid-April, as well as the Sixth Annual Vanderbilt Student Film Festival on Sunday, Feb. 26.
In The Strange Case of Angelica, a well-to-do family hires a young photographer to take the last photograph of their deceased daughter. Upon seeing her, he falls deeply in love and soon finds her returning to life through his camera lens. The film is in Portuguese with English subtitles, 97 minutes long and not rated.
View the full schedule of films for spring 2012. 
Admission to all screenings is free and open to the public. All films will be shown in Sarratt Cinema beginning at 7:30 p.m. unless otherwise noted.
The films are in 35mm format unless otherwise noted. "Not rated" films may contain material suitable for mature audiences only. Go here for parking maps and additional information.

International Lens, a film series with a global perspective, uses film screenings as a forum to promote conversation among Vanderbilt's diverse community of students, faculty and staff. International Lens strives to transcend geographic, ethnic, religious, linguistic and political boundaries by facilitating conversation and greater cross-cultural understanding through cinema. The series is a partnership between the Office of the Dean of Students and various academic departments, centers and programs.
Contact: Marci Angevine, (615) 322-2753
marci.angevine@vanderbilt.edu