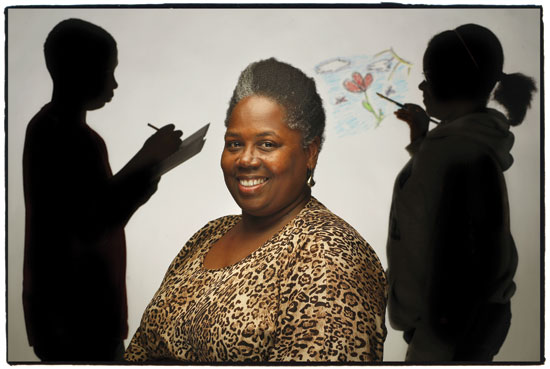 The arts have always been a big part of who Midori Lockett is and how she lives. "I saw my first play, Jack and the Beanstalk, at Nashville Children's Theatre when I was 3," she said. "I had my first art class when I was 5 from a woman who taught at her home on Fairfax Avenue."
Lockett's mother grew up in a small town east of Nashville without many opportunities to experience the arts, so she made sure that her own children had the opportunities she missed. "She wanted us to be well-rounded and to be exposed to arts and culture," Lockett said.
"When I was a child I had a hard time deciding between visual or performing art," said Lockett, "but I decided that drama was more active and it got me out of my shy shell."
She took drama classes at school and at the children's theater. Later, she indulged her wanderlust and headed to Brown University in Rhode Island to study drama, particularly writing and producing plays. Then it was off to Philadelphia for graduate school to study arts management.
With degrees in hand, Lockett went to work for the Free Library of Philadelphia, which was her first foray into event planning, a skill that would bring her to Vanderbilt in 2000.
She helped create one of Commencement's signature events, The Party, not to mention staging the popular Turkey Toss giveaway each December and the annual employee football tailgate. Lockett recently became event planner for Human Resources and is the creative force behind many Employee Celebration events.
"[rquote]I view events like mini-play productions," Lockett said. "I take advantage of all the skills that I've garnered through the years producing theater to bring people together, orchestrate the pieces, and create an experience and a memory."[/rquote]
Like her mother before her, Lockett is dedicated to nurturing the artistic interests of her children, Marcus Kofi and Amina, twins who are now 12. "Kofi is an avid reader and says he's working on a book, although he won't let me see it," she laughed.
Amina recently won best in show at the Vanderbilt employee and family art show for her mixed media abstract A Burst of Excitement. "Amina and I have lots of similarities," observed Lockett, "but Amina's much more talented."
Now that her children are in middle school, Lockett is getting back to her own art. She's thinking about a project that's been a dream since childhood: writing a children's book. "I could write the story and Amina could illustrate it," she said.
How does Lockett find time to be an artist, a mom and a professional event planner? "You find the time to do the things you're passionate about," she said. "Art has the ability to connect us with something that's amazing and beautiful. I enjoy being a part of that."
written by Donna B. Smith