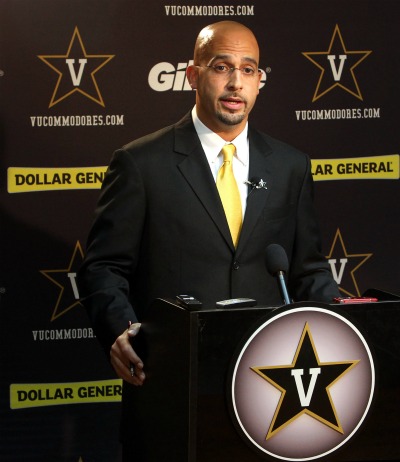 James Franklin, whose Commodores have already tripled the number of victories they had in each of the past two seasons, has agreed to a new contract extending his term and raising his salary as Vanderbilt University's head football coach.
"We have torn up the contract for James Franklin, and rewarded him and his family with a new contract with extended years and a substantial increase in compensation," said David Williams, vice chancellor for university affairs and athletics, general counsel and secretary of the university.
Franklin, a former assistant at Maryland, was hired by Vanderbilt in December 2010. In his first regular season, he has led the Commodores to six victories, making them bowl-eligible.
"We are rewarding coach Franklin not only for what he has brought here, but what he is going to bring here in the future," Williams said.
Vanderbilt will also build a multi-purpose indoor practice facility for football players and other athletes and systematically improve Vanderbilt Stadium with new turf, lighting, JumboTron, press box upgrades and other amenities.
Details of Franklin's new contract were not released. The upgrades will be paid for by the university and donors, with a lead donor already identified for the multi-purpose facility, which will include a full-length football field surrounded by a running track. The multi-purpose facility will benefit football players and other Vanderbilt athletes such as Vanderbilt's Southeastern Conference champion women's cross country team, Williams said.
Other improvements on tap include a coach's locker room, theater classroom, locker rooms for the Olympic sports teams and expansion of dining facilities, Williams said.
Franklin praised the Vanderbilt administration for its commitment, and challenged Vanderbilt fans to follow through by quickly selling out Vanderbilt's bowl game, which was set to be announced Dec. 4.
"We will truly be as good as we decide to be," Franklin said. "By no means … have we arrived. We have made positive steps in the right direction, but there is a lot more work to do."
Williams said he anticipates bringing the facility improvements to the Vanderbilt Board of Trust for its consideration its April meeting, and he hopes all will be complete by the launch of the 2014 football season, and perhaps before that.