Open Enrollment deadline is 5 p.m. today
Oct. 12, 2011, 8:00 AM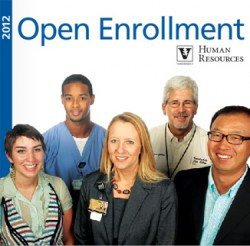 Open Enrollment, the annual opportunity for benefits-eligible employees to choose their benefits and elect the coverage that fits their needs for the coming year, ends at 5 p.m. Friday, Oct. 14. This week is the only remaining time to review insurance and spending account coverage and make choices for the upcoming calendar year.
Please remember:
All benefits-eligible employees need to enroll.
Even if you're keeping the same benefits, you still need to enroll.
If you don't enroll, you will have these default benefits for 2012:
Health: Aetna Standard, employee-only (no family coverage)

Dental: waive (no coverage)

Vision: waive (no coverage)

Accidental Death & Dismemberment: waive (no coverage)

Flexible Spending Accounts: waive (no spending accounts)

Note: your current Short-term Disability election will not change
Visit the Open Enrollment website and enroll today.
While you are considering your benefits for 2012, please visit Vanderbilt Gives to review your charitable giving options. It's a convenient and easy way to help those who need it most.
Contact: (615) 343-7000