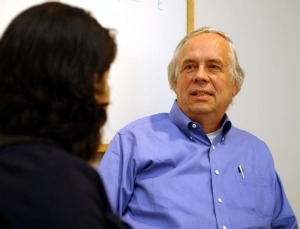 David Ernst, professor of physics at Vanderbilt University and adjunct professor at Fisk University, is one of five scientists who have been honored this year by the Society for Advancement of Chicanos and Native Americans in Science (SACNAS) for their exemplary scientific achievement, teaching and mentorship of underrepresented minority students.
SACNAS is a national non-profit organization dedicated to diversifying the nation's scientific workforce. Since 1977 it has been honoring scientists, educators and program directors who personify the spirit of its mission with its annual distinguished awards. Ernst is cited for his role as co-founder and member of the executive committee of the Fisk-Vanderbilt Masters to Ph.D. Bridge Program, "a program which will become in 2011 the number one producer of African-American Ph.D.'s in physics, astronomy and materials science" and, in another five years will also be the number one producer of Hispanic Ph.D.'s in these areas. In addition, "[rquote]Dr. Ernst has been an active personal mentor to hundreds of students over 40 years, many of these minorities, of whom 40 have received or are on track to receiving their Ph.D. degrees[/rquote]."
The award ceremony will take place in October at the SACNAS National Conference in San Jose, Calif.