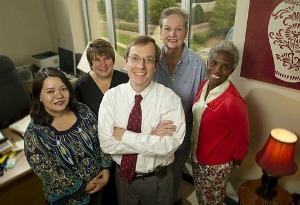 Research led by Timothy Sterling, professor of medicine, offers an important development in prevention of the centuries-old scourge, tuberculosis.
Sterling led the largest TB study in decades to test a drug combination that reduces treatment time by two-thirds for latent infection, a condition resulting from exposure to TB, without the contagion and illness caused by the disease itself.
"It's a game-changer. Currently less than half of the people who start the current therapy complete it. The new combination would require direct observation, but more people would complete treatment," Sterling said.
The current regimen for latent TB infection is daily doses of a drug called isoniazid (INH). A total of 270 daily doses must be taken over the course of nine months to eradicate the bacteria, which can lie dormant in the body for years.
The study involved 8,000 patients in four countries over 10 years. Twelve doses of INH combined with another TB drug called rifapentine were taken over a three-month period. One dose was taken per week, directly observed by a health care worker. After 33 months, the shorter course, combination therapy was at least as safe and effective in eliminating latent TB as the standard therapy, but the new therapy improved compliance by at least 10 percent.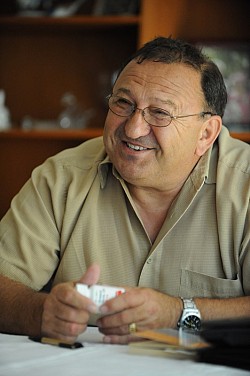 Active TB cases, which can be deadly to patients who have a compromised immune system, still occur in Nashville. Those cases generally come from the pool of patients with latent TB. To prevent a resurgence of active and infectious disease, the Metro Public Health Department's Division of TB Elimination works with an average of 700 new cases of latent TB per year.
"I didn't even know what latent TB was," said Alf Fidler, a Nashville resident who recently finished a nine-month course of INH. "I got a TB skin test before I was to do some work with Metro Schools, and the spot swelled up. We had recently traveled to Ecuador, but I don't really know where I got it."
"Most people we treat for latent TB are not as compliant as Mr. Fidler," said Sheila McCloskey,  Metro's director of TB Elimination. "Many of these infections are in people who have recently immigrated to the U.S. They may be refugees who have few resources, like transportation, to get to the clinic to complete the nine-month therapy."
In Sterling's study, compliance with the new combination regimen was better than 80 percent. That figure is exciting to health care workers like Diedra Freeman, a nurse practitioner and TB elimination team member.
"I came in 2003 to specifically work with latent component and our treatment completion rates were terrible, maybe in the 30 percent range. Now we are happy to be up to the low 60's, but it's still much lower than we would like," Freeman said.
The Metro Public Health Department was one of the sites for Sterling's study, which was funded by the Centers for Disease Control and Prevention (CDC). Other Vanderbilt investigators were Amy Kerrigan, MSN, R.N., and Alicia Wright, among others.
Sterling says continued research is important. The new study took place in the United States, Canada, Brazil, and Spain, nations where TB incidence is moderate or low. Research is needed in high incidence countries. Children under 2 were excluded from the study.
The CDC is working on guidelines for use of the new regimen in latent TB patients like those in the study. Sterling says implementation of the new regimen is likely to take at least six months.