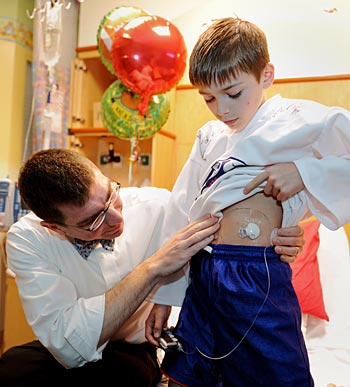 Just a few weeks ago, Artie and Leslie Sevelius could not have imagined a cookie would require so much careful consideration, but that was before their 10-year-old son, Jackson, developed type 1 diabetes and joined a novel study at Vanderbilt.
Jackson is the first child in Middle Tennessee to enroll in the Vanderbilt Type 1 Diabetes TrialNet study on the use of technology to achieve better control of blood sugar levels earlier in the course of type 1 diabetes. The goal is to slow the disease's progression and hopefully gain more years of natural insulin production for people with new-onset diabetes.
As part of the study, the Mt. Juliet family agreed to have Jackson admitted to the Monroe Carell Jr. Children's Hospital at Vanderbilt for four days. Jackson received intensive blood sugar regulation and insulin administration using an insulin pump and continuous blood glucose monitoring.
The cookie that gave the family such trouble came with lunch on the final full day of Jackson's hospital stay. A diabetes educator worked with the parents using a calculator. They asked Jackson if he was sure he was hungry enough to eat two cookies.
The answer was important because when insulin pumps are used, every carbohydrate eaten must be carefully calculated and the pump programmed to deliver the precise amount of extra insulin to safely handle what Jackson eats. So if he wants a second cookie, he has to plan for it in advance.
"If I decide later not to have the cookie, I have to have some juice," Jackson states dutifully. The diabetes educator nods and smiles.
Juice consumption was key
Jackson Sevelius talks about his experience as the first patient in this new regional TrialNet study.
For the study, Jackson's parents agreed to join him in a crash course in diabetes management, one that far exceeded the normal learning curve for families with a new type 1 diabetes diagnosis.
"We are learning in four days what people usually learn in four months. Getting the pump is usually down the line a bit, but I wanted that pump," Leslie Sevelius said.
For this study, the insulin pump and a monitor must be implanted within the first weeks of diagnosis. Leslie Sevelius said it's hard to believe all this started less than two weeks ago at a birthday party.
"It was all the juice he was going through. He was drinking it at a crazy pace compared to the other kids," Leslie recalled. "I told another mother and she said those were symptoms of diabetes."
Ordinarily, patients with diabetes use insulin injections for a year before use of the more technically complex, yet more accurate, pump/monitor system is considered.
Drew Bremer, assistant professor of pediatric endocrinology and principal investigator on the study, said the "closed loop system" Jackson is hooked to during his four-day stay is capable of achieving near-normal blood sugar levels.
"Part of the intensity of the study is that every half hour whole blood is drawn to measure Jackson's glucose levels so we can make sure the sensor information is correct and the insulin pump is functioning properly. Jackson's treatment is comparable to an insulin drip that a patient might have in an intensive care unit," Bremer said.
Once the family goes home, the pump, sensor and education should help Jackson maintain his blood sugar in tight control.
Bremer said the hope is that tight control for the first two years might slow progression of type 1 diabetes by giving the insulin-producing islet cells a rest. Less active islet cells, exposed less to high levels of blood sugar, may reduce inflammation, thereby possibly reducing the autoimmune destruction.
Jackson is eager to share what he has learned. "When you have diabetes, your pancreas either stops making enough, or stops working. You have to get this stuff called insulin," he said.
Researchers at Vanderbilt hope to enroll more patients with newly diagnosed diabetes. In addition to Vanderbilt, Stanford, Yale, Denver and Indianapolis TrialNet centers are also involved in this study.