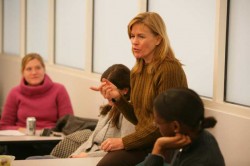 Carolyn  Hughes, professor of special education, was among 10 national researchers recognized for Exceptional Service to the Field by the American Association on Intellectual and Developmental Disabilities at AAIDD's Annual Meeting on June 6.
The award recognized Hughes and colleagues from other national universities as authors of the Supports Intensity Scale (SIS), which was called a "game changing" contribution to the association, the field, and the lives of people with intellectual and other developmental disabilities.
The SIS has been instrumental in shifting the assessment paradigm from a deficits model to one that helps identify what practical supports people need to have the greatest personal independence, productivity, social inclusion, and quality of life.
The State of Tennessee has recently adopted the SIS.
Hughes is the principal investigator of a newly awarded 5-year grant from the U.S. Department of Education on Development and Validation of the Supports Intensity Scale (SIS) for Children. It will be designed to assess the support needs of children with intellectual disabilities, ages 5-18 years, which will be instrumental in identifying supports needed to enhance children's successful engagement and functioning in school and preferred life activities.
Hughes also has been appointed to serve on the Editorial Board of the Journal of Vocational Rehabilitation.
Contact: Amy Pottier, (615) 322-8240