Looking Back
by
Kara Furlong
Jun. 2, 2011, 12:54 AM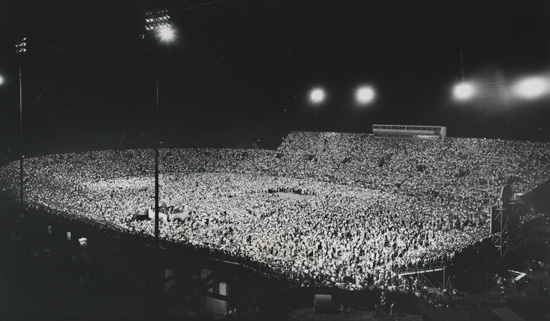 When Vanderbilt's Dudley Field opened in 1922, it was the first stadium in the South built exclusively for college football. But the venue has hosted more than athletics events over the years. Such was the case when the Rev. Billy Graham brought his popular evangelical crusade to Nashville for the first time. On Sept. 19, 1954, the last night of the crusade, an estimated 65,000 people filled the stadium (pictured, in this photo taken from the roof of Memorial Gym). Graham would conduct two more crusades in Nashville over the course of his career: in 1979, again at Vanderbilt; and in 2000 at what is now LP Field.
The 1954 Nashville crusade was noteworthy for a couple of reasons. It was one of Graham's first officially desegregated crusades in the South following the Brown v. Board of Education decision in May of that year. The event also popularized the hymn "To God Be the Glory" in the United States. Written by prolific American hymnist Fanny Crosby around 1872, the song was better known in England. When Graham conducted his London crusade in early 1954, a copy of the hymn was given to Cliff Barrows, Graham's song leader, who introduced it to the audience in Nashville. The crowd responded enthusiastically, so Graham and Barrows adopted the song as one of their standards. Because of their influence, the compilers of hymnals began including it in new collections.
The 1954 crusade also had a lasting effect on Vanderbilt football. Lights installed at the stadium to facilitate the event made night games possible for the first time. A week after the crusade, on Sept. 25, 1954, Vanderbilt hosted No. 10-ranked Baylor University in the first night game ever played on the Dudley Field surface. The Commodores fell to Baylor, 25-19.
Vanderbilt Stadium will play host to a capacity crowd again this summer, when iconic rock band U2 brings its multimedia 360 tour to campus on July 2. It will mark U2's first performance in Nashville in 30 years. The band last played the city on Dec. 2, 1981.