Media Inquiries
Latest Stories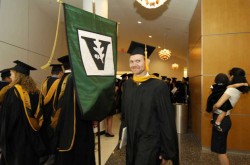 Commencement is being moved to Memorial Gym located on campus at 25th Avenue South. Because of severe weather conditions the university has determined that it is unsafe to hold the ceremony on Alumni Lawn.
The event remains on schedule. Shuttles will be re-routed to drop passengers off at the corner of Jess Neely and 25th avenues from the Terrace Place and Wesley Place garages. The Kensington and 25th Ave. parking garages are within walking distance from Memorial Gym and will not offer shuttle service.
Graduate and professional students should still plan to depart the gym at approximately 10:15 a.m. to attend their respective degree ceremonies. Parents and guests of graduate/professional students are encouraged to report directly to their respective school sites to avoid unnecessary exposure to the elements.  Refer to the Commencement Handbook or website for diploma ceremony start times.  Please check www.vanderbilt.edu/commencement for updates.
Please visit http://www.vanderbilt.edu/commencement/rain/ for more information, including seating maps.
The ceremony will be streamed live on the Vanderbilt homepage and VTV Ch. 8 and available to watch after the event.
Contact: Commencement, commencement@vanderbilt.edu
866.388.4723