The 'View' profiles a trio of 2011 graduates who have worked hard, learned much and care deeply about making the world a better place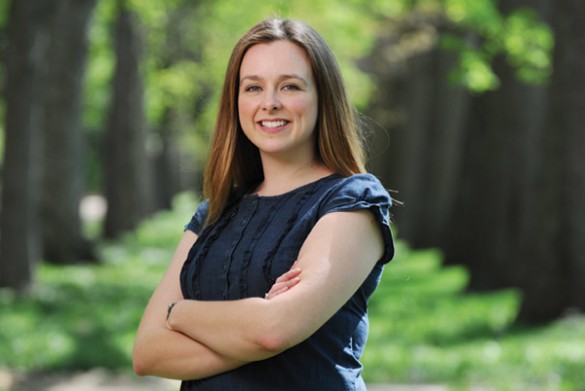 Shannon Hoffman plans to promote education in Appalachia
Shannon Hoffman is a Michigander by birth, but her heart belongs to Appalachia.
She grew up near Flint in her father's native state, but holidays were spent with her mother's family at the far eastern end of Kentucky, in tiny Wheelwright, a town established by the Elk Horn Coal Company in 1916. Hoffman's mother is the youngest of nine children whose father, a coal miner, died of black lung, a respiratory disease caused by prolonged exposure to coal dust.
As an adult, Hoffman has found herself drawn to the region again and again.
"My interest in Appalachia has always been there," said the master's student at Peabody College of education and human development. [rquote]"Everything I do, I feel like I'm digging up information on where I come from.[/rquote]"
While an undergraduate at Michigan State University, Hoffman twice participated in Alternative Spring Break service trips near her mother's hometown. Following graduation, she joined AmeriCorps and served for a year in the region, living in Paintsville, Ky., and driving each day to nearby Kermit, W.Va., where she worked with a nonprofit agency focused on assisting women and children living in poverty.
In particular, Hoffman counseled residents on getting their GEDs and pursuing post-secondary education. In Appalachia, students often leave school early to work. Graduation rates are low and teen pregnancy rates are high. Hoffman saw firsthand the complexity of this cycle.
"McDowell County, W.Va., is one of the highest coal-producing counties in the state. It also has the lowest college-going rate in the state," Hoffman said.
"At the local high schools, the highest math class offered is trigonometry," not calculus as it is in most curriculums, she added. "So there is a huge disparity between the standard and what those kids are even being challenged to do."
Hoffman sometimes took her students to the campus of Marshall University in Huntington, W.Va., for inspiration.
"They absolutely loved it," she said. "But a lot of the women I worked with already had babies, and some were married very young. I remember thinking, 'If I could have brought them here three years ago, college might have been their end goal.' But because they didn't know about it, they didn't dream for it."
Access to educational resources is not the only problem. Hoffman also found that residents – especially in communities dominated by the coal industry – are reluctant to change their way of life.
"One of the things I heard in opposition to college was, 'That's going to run people out of here. It's going to change people,'" she said. "While that's true, it doesn't have to be a negative. Increasing access to higher education means that people from the region contribute to a wider array of social and economic development. This creates inroads for them to return to and work in their home communities."
Hoffman also battled the perception that she was an outsider who didn't truly understand Appalachian culture. In fact, her desire to improve access to higher education hits particularly close to home. Hoffman's mother never realized her own dream of attending community college, and her grandmother left school in the eighth grade to marry.
"Their backgrounds really inspired me," she said. "I think about the infrastructure that wasn't in place for them and what I can do to fill that void for others."
Hoffman is receiving a master's degree in higher education administration and wants to work at a university that serves the Appalachian region. She credits her time at Peabody with clarifying that mission.
"Peabody gives you all these tools that you can apply to whatever your interest is," she said. "My passion is improving access to higher education – working with students who have had a social injustice done to them. I want to give them everything that I had in terms of educational opportunity. But I don't think I could have verbalized this before coming to Peabody."
Hoffman continues to expand her knowledge of Appalachia any way she can.
"The more I know, the more I feel like I can do something," she said. Her activism extends to lobbying for the region at the federal level. In recent months, she's traveled to Washington, D.C., with grassroots organizations in support of protecting Appalachia's rivers and streams from pollution caused by mountaintop removal coal mining.
"What I love about Appalachia is that it's home to some of the most resilient people I've ever met. There is honor in that," Hoffman said. "My family is part of that resiliency.
"There is value in sitting on the porch and telling stories and taking it easy that is maybe forgotten in mainstream America today. I think that culture is worth preserving."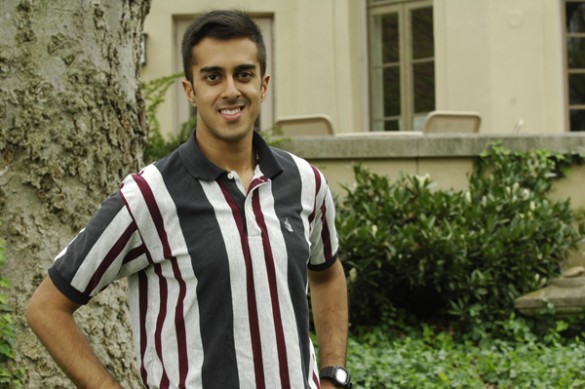 Nehal Mehta aims to be a nation builder
Ask Nehal Mehta if he's learned more inside the classroom over the last four years or outside of it, and his answer is characteristically diplomatic.
"I think it's a synthesis of the two," said the senior engineering science and economics double major. "The opportunities I pursued outside of class provided perspective and context to what I was learning in class. That is what has defined the Vanderbilt experience for me."
As a freshman, Mehta signed up to participate in Vanderbilt's Alternative Spring Break program "on a whim." He now calls ASB "one of the best things I could have possibly been involved in."
That first spring break he travelled with a group of fellow students to Monterrey, Mexico, where, in an effort to better understand immigration and poverty issues, they lived among the homeless in a transitional housing center. Mehta recalls the dinnertime conversation he shared with an elderly resident one evening.
"He had tried to come into the U.S. many times illegally," Mehta said. "Hearing his story allowed me to empathize with his situation and his reasons for doing what he did. I credit that experience for putting a human face on what had otherwise been an academic issue for me."
As a sophomore, Mehta was a site leader for an ASB trip to Guatemala. On the long drive to Xela, high in the Sierra Madres, he befriended the group's van driver, who related his own struggles to raise the funds – as much as $30,000 – to come to the United States. Mehta was able to draw parallels between the driver's story and what he had learned in his Latin American economic development class back at Vanderbilt.
Junior year Mehta led an ASB site along the Texas-Mexico border at Casa Esperanza, a detention center that provides young people with schooling and English-language training while they wait out the legal immigration process. This year, while serving as co-chair of ASB's executive board, Mehta participated in the Urban Plunge – 48 hours spent living among the homeless on the streets of Washington, D.C.
"Seeing poverty at the international level, seeing immigration issues first-hand, seeing what motivates people to risk life and limb and incredible financial assets to come to the U.S., seeing America's homeless and the issues we face in our nation's capital – these things have cemented what I learned in the classroom," Mehta said. In turn, the marriage of curriculum and hands-on experience has helped shape his worldview.
"I view society as having three core pillars: infrastructure, the economy and the legal system," said Mehta, who has pursued his education accordingly. Mehta has done a 3-2 program at Vanderbilt. His first three years were spent completing his bachelor's degrees in engineering and economics, and he's currently finishing up year one of the two-year MBA program at Vanderbilt's Owen Graduate School of Management. Mehta also plans to attend law school in the future. All of this is in preparation of a larger goal.
"[rquote]Long term, I want to be involved in nation building – taking developing nations and pushing them forward – and I think a background in these areas will best position me for that."[/rquote]
In the short term, Mehta will pursue a different commitment – one that will take the Kingsport, Tenn., native even farther from home. As a member of Vanderbilt's Reserve Officers' Training Corps, he has served as commander of the "Go Gold" battalion and ranks in the top 10 percent of all ROTC cadets nationwide. Next year Mehta will begin three years of active duty service in the U.S. Army that will likely include deployment to the Middle East. After that he wants to transition to the Army Reserves and serve as a Civil Affairs officer.
"Those are the soldiers that sit down with local village elders to discuss what U.S. forces can do to engender more favorable relations," Mehta explained. "That seems like the coolest mission in the world."
Mehta sees the issues he cares about as transcending allegiance to a particular political party.
"At a deeper level, they are human issues," he said. "Providing economic growth to another nation and helping incite their development has very real benefits and positive externalities for our nation.
"I'm all about the extension of opportunity, because I think that opportunity is the key driving force of the human spirit," Mehta said. "You just need a catalyst to help people over the hurdle, and they'll take it from there."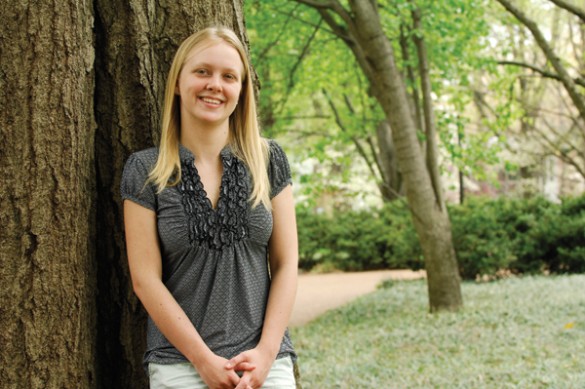 Karen White's next chapter is as environmental champion
Karen White recognizes the disconnect that often exists between scientists working on environmental issues and policy makers reluctant to make the environment part of the national agenda.
"My generation is starting to shift how we think about the environment," said the College of Arts and Science senior who is majoring in public policy with a concentration in ecology. "It's exciting to think that we're going to see change on this issue in my lifetime and that I can be a part of it, even though the job will be tough in terms of convincing people to support something that may or may not pay off economically at the end of the day.
"It's exciting," she said, "because it's a challenge."
White is no stranger to challenges – her childhood in Bowie, Md., was full of them. White's father left the family when she was 5, and her mother's remarriage created a volatile home life. Between ages 11 and 15 she was back and forth between her mother's house and a foster home. At 15 and a half, she left home for good.
"[rquote]I had to do something different, because I didn't like where my life was heading," said White, who dropped out of high school to support herself.[/rquote]
For three winter months, she slept in a friend's car. She got a job in a pizza restaurant, then a tattoo parlor, where she slept on the couch. She was getting by, but she wanted more.
"Figuring out how to get back to success was one of the hardest things along the journey," she said. "I was fortunate not to get stuck where I was – to think that somehow, beyond the situation, there was an achievable goal. Education was the route that I took."
White got her GED in time to finish with her class in 2006. She enrolled at Northern Virginia Community College and earned an associate's degree in earth science. A temp-to-hire position with AARP in Washington, D.C., led to a full-time job, good pay, full benefits and a surrogate family among her co-workers. She had security for the first time, in more ways than one.
White knew that staying with the organization would mean a comfortable life, but her dream was a career in environmental advocacy. She applied and was accepted to a number of four-year universities, including Vanderbilt, but couldn't afford to visit Nashville. An AARP colleague was a Vanderbilt alum and spoke highly of the school.
Financial aid was also a consideration. White cites Vanderbilt's Expanded Aid Program, which meets all of an applicant's demonstrated financial need, as a major factor in her decision to attend. Paying for college "felt overwhelming before I made the decision to come here," she said. "But Vanderbilt was very consistent and gave me really good numbers up front."
The first time White stepped onto campus as a student, it was sight unseen.
"It felt like a movie for the first semester – just a beautiful campus, and really amazing in how enveloping the environment was," she said. But transferring in as a junior gave her a late start at finding a niche.
"The cool thing is that Vanderbilt offered me lots of outlets," she said. One of those was Students Promoting Environmental Awareness and Responsibility, a group that White became president of her second semester on campus. Under her leadership, SPEAR undertook an energy conservation awareness project in Nashville's Buena Vista Heights neighborhood. She also worked to establish the Vanderbilt Green Fund, whose goal is to reduce the university's greenhouse gas emissions through projects with both environmental and economic benefits.
This year, White found a home among the kindred spirits of McGill residence hall. She interned in Al Gore's Nashville office, and was recently accepted to Vermont Law School, whose environmental law program is ranked the best in the nation by U.S. News & World Report. White plans a career lobbying Washington in support of the issues she feels so passionately about.
White's journey is unique among her Vanderbilt peers, but it's allowed her to contribute to the fabric of the university.
"I feel that my story can show those from a more privileged background what it means to be in a tough situation. Choice isn't always available," she said. "Sometimes you simply do what's necessary to survive.
"My fellow students are tomorrow's decision-makers," White said. "I want them to have a broader view of what people go through in life, so that they can make decisions that don't exclude opportunity for anyone."
For more stories on 2011 graduates, watch VUCast at
http://news.vanderbilt.edu.