Huge equipment delivery set for Stevenson Center May 7
by
John Howser
May. 2, 2011, 1:40 PM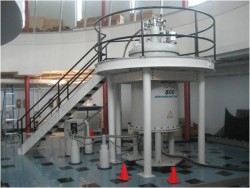 More than seven tons of equipment is set to be delivered to the Stevenson Center on May 7. A Nuclear Magnetic Resonance spectrometer will be lifted in through the roof.
The 900 MHz NMR spectrometer will be delivered to the Biomolecular NMR Center in the Stevenson Center at about 9:30 a.m. A crane will hoist the 115-inch-tall instrument and lower it through a 72-inch opening in the roof.
The addition of the instrument was made possible by a $3.9 million grant from the American Reinvestment and Recovery Act of 2009 obtained through a nationally promoted, competitive selection process by peer reviewers from the National Science Foundation. Vanderbilt provided matching funds and renovation cost, and additional funding was provided by the National Institutes of Health. There are fewer than 10 instruments of this type in the United States.
"The addition of this state-of-the-art NMR spectrometer will enable the NMR-based research being carried out at Vanderbilt to push further into the frontier in which the molecular basis for human diseases is explored and novel therapeutic approaches to these diseases are discovered," said Charles R. Sanders, professor of biochemistry. "The new spectrometer will allow more complex molecules to be studied than has been possible with previous-generation spectrometers; it will also allow useful data to be collected using much smaller samples than previously possible."