Eleven faculty members who have been named to endowed chairs were praised for their outstanding academic achievements during a celebration at the Student Life Center.
"We are a place that values discovery, creativity, great patient care and service in affairs, said Richard McCarty, provost and vice chancellor for academic affairs. "And it's also the transfer of the passion of your academic scholarship that benefits our students as well as the larger society."  He expressed gratitude for the chair holders' work as leaders on campus, in their various fields and in the broader society.
The April 5 ceremony was the second in a series of events to recognize the remarkable accomplishments and contributions of new chair holders at Vanderbilt.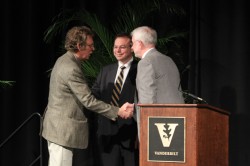 "This is one of those very special times in the life of a university when we recognize the people that really make us great and those are the people that have risen to a point in their academic life where the university gives them an endowed chair," said Jeff Balser, vice chancellor for health services. "I am really happy that we have started to have these ceremonies to recognize these achievements."
The major university initiative to recruit and retain outstanding scholars and teachers with the new chairs was announced by Chancellor Nicholas S. Zeppos last August.
The newly honored chairs are:
Balser and McCarty gave thanks to the very generous donors that have made it possible to recruit and retain outstanding scholars and teachers on campus. They noted that the gifts range from one chair given late last calendar year to others that date back to members of the Vanderbilt family. "We can never acknowledge too frequently the power of those gifts when magnified over time and what they have made possible at Vanderbilt," McCarty said.
Approximately 200 colleagues, friends and family members of the honorees turned out for the ceremony and reception.